Internships have become an integral part of education in every field of academics. It is a good source of practical understanding of the courses that a person is studying. Students usually start applying to intern in their preferred companies, firms etc. in the months of January and February for summer internships.
For those interested in internship in the area of Social Media Marketing, the Directorate of International Affairs, GGSIPU has invited applications from the students of University School of Studies for its Summer Internship Programme during the internship period. In a recent notice dated February 12, 2021, GGSIPU has included all the necessary information about the internship.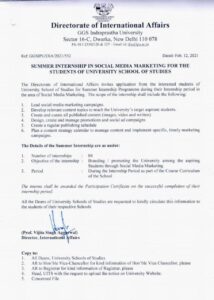 The University has also specified the scope of the internship in order to provide more clarity about the nature of the internship. According to the notice, the scope of the internships includes:
Lead social media marketing campaigns.
Develop relevant content topics to reach the University's target aspirant students.
Create and curate all published content (images, videos and written)
Design, create and manage promotions and social ad campaigns
Create a regular publishing schedule
Plan a content strategy calendar to manage content and implement specific, timely marketing campaigns.
It is further stated in the notice that the total number of available internships is 4 and the objective to be achieved by this internship would be to promote the University among the aspiring students through Social Media Marketing. Along with the scope, availability and objective, GGSIPU has also stated that the period of the said internships would be during the internship period as part of the Course curriculum of the school.
Further, those who will be selected as interns will be awarded the participation certificate by the University on the successful completion of their internship periods.
Follow us on Instagram & Twitter for more updates!