Every year the VIPS' economics club also known as 'Arthvidya' organises an annual Economics fest called 'Sankaran'. The economic club established in 2017, marks the fest by organizing various Workshops, Seminars, Group Discussions,  Paper  Presentations and Panel Discussions. Arthvidya also conducts two Annual Events  "Eco  Quest"  and  "Sankaran"-  academic fest of Vivekananda School of Economics, which aims to enlighten students from different backgrounds about Economics. These events provide a platform to the students to channelize their theoretical knowledge into real and practical situations and sharing their ideas and views with the community.
SANKARAN is a perfect blend of academic and cultural events and activities which challenge the way of perceiving mainstream economics. Last year, in light of pandemic COVID 19 Sankaran'20 was organised virtually via Google Meet and Zoom Meets. Events like Just-A- Mystery (JAM), IPL Auction, Wordplay, Artistica and You Just Got Framed were the highlight of the event.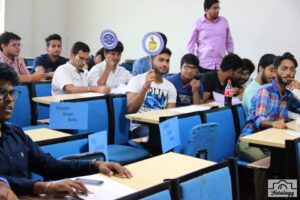 This year Sankaran'21 which is all set to be organised on 5-6th March will be a jam-packed event with some mind-boggling and engaging events and prizes worth Rs 80k. With a solid line up of 8 events like MONOPOLY, MERCADO and IPL AUCTION to thrill and entertain the budding entrepreneurs, these games will challenge the zealot hidden inside the future economists, marketing strategist and investors to look beyond the basic curriculum and connect it with the nuances of behavioural economics. A line up of co-curricular events like ARTISTICA, YOU JUST GOT FRAMED 2.0, OPEN MIC and WORDPLAY will reward the creative talents of participants. Events like DIGITAL SCAVENGER HUNT will enable participants to accomplish the task-based games.
You may like to read: WHO PROCTORS THE PROCTOR?
The offline edition of Sankaran attracts over 3000 students from college all over India wherein the online editions organised in light of pandemic COVID 19 attracted over 1000 students from colleges all over India. 
To know more about Sankaran, one can follow the official Instagram handle of Arthvidya, @Arthvidya.vips
For more campus-related updates, follow us on Instagram and Twitter!