Maharaja Agrasen Institute of Management Studies or MAIMS is all set to organise its 1st Justice J.S. Verma Memorial ADR & Client Counselling Competition.
The competition is a 5-day annual law fest to be led by the Department of Law, MAIMS, and is scheduled to be held from 17th to 21st March 2021.
MAIMS counselling competition is organized with the aim to provide a platform for the exchange of ideas and experiences between students.
The event consists of various academic competitions, with students from different law schools as participants.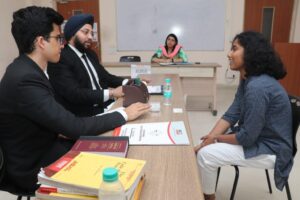 It will help the students in enhancing several skills like self-awareness, critical thinking, organisational skills, and teamwork, thus making them better professionals.
MAIMS Counselling Competition seeks to encourage the effective use of alternative dispute resolution (ADR) mechanisms and to promote an open exchange of ideas.
The competition aims to combine the use of ADR and the collaborative problem-solving skills of law students.
Justice NV Ramana to witness the Counselling Competition
Justice N.V. Ramana, the judge of the Supreme Court, spoke at the First Justice J.S. Verma Memorial ADR & Client Counselling Competition organized by the Department of Law, MAIMS.
He laid special emphasis on alternative dispute resolution (ADR) and outlined a three-pronged approach.
Justice Ramana asked to reverse the nearly 4 crore pendency in courts across the country.
The senior judge, who is next in line to be the Chief Justice of India suggested improving the judicial infrastructure through the use of e-platforms.
He recommended setting up new courts and strengthening the existing ADR mechanism to improve the pendency of cases in courts.
In addition, justice Ramana highlighted that huge pendency cannot be concealed and need to be confronted without any further delay.
He also threw light on the role of ADR in legal services. According to sources, around 1,32,378 cases were resolved through mediation in 2019 and 2020.
Justice Ramana is presently the Executive Chairman of NALSA.
Follow Us On Instagram For More!