Building a good resume for internships and jobs is the first priority of every student. Workshops, seminars, internships etc. are some of the ways to better one's resume. However, in the new age of online education, especially since the pandemic started, a lot of online certificate courses have been introduced and is readily being accepted in academics. Certificates from well-renowned platforms hold much more credibility and acceptance in the eyes of colleges and companies offering jobs or internships. One such platform is Google, which provides Google Certifications for courses taught by experts and professionals.
Google certificates are online courses designed to help kick-start your career in a number of high-growth fields. With classes in data analysis, project management, UX design, IT support, and IT automation, Google Certificates can be a good help in making a significant first step in your career.
Here are 10 Free Google Certifications For Your Resume:
Google Digital Unlocked Course

This course provides a complete overview of digital marketing dynamics along with the information about key concepts and strategic vocabulary. It covers a wide range of topics from SEO to social media that makes it a helpful tool in conducting online business or running any kind of online platform.

Display Advertising Course

Display Advertising Course educates those who enroll about the many ways which helps to explore potential strategic places for posting visual ads for the most impact. This is important for running and expanding any online business and platforms by targeting the right audience.

AdWords Fundamentals Course

This course helps to make advertisement priorities consistence with clients' needs and preferences. It teaches unique targeting ways to capture the attention the client along with providing insights about selecting strategic keywords for organizing focused campaigns.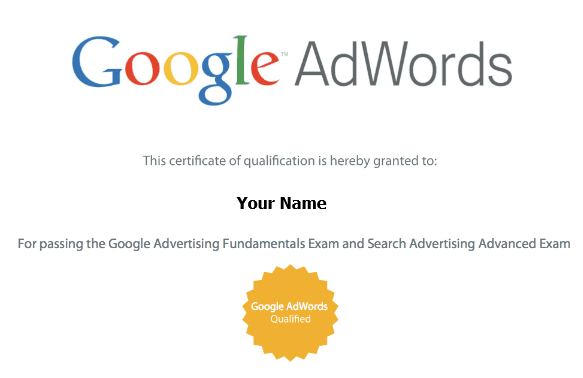 Search Advertising Course

 With this course, the enrolled candidate gets to understand why search can be a powerful part of any marketing campaign. This course helps to plan a search campaign that consists of ways to match ad's strategies of the online businesses with requirements of its niche.
Mobile Advertising Course

This course is designed to help organize campaigns meant for mobile platforms. The course teaches the candidates the various ways to come up with such ad strategies which are functional on various platforms and can adapt to smartphone platforms.
Shopping Advertising Course

Shopping Avertising Course by Google consists of methods that help to efficiently create and administrate Google Merchant Center account. It also teaches various ways to optimize shopping campaign on Google.
Video Advertising Course

With the help of Google Adwords, this course teaches methods to use the potential of videos as advertising media as an advantage to the online platforms. The Video advertising course also educates the candidates about the various strategie for creating compelling videos for the viewers.
Analytics Course

The Analytics course trains the enrolled candidates regarding the various effective strategies to utilize the Google Analytics by  teaching the workings of Analytics Tools. Further, it also explains the different ways to connect AdWords and Analytics for adding edge to the ad campaigns.
Google My Business Course

This course teaches the use of Google My Business tool for keeping information accurate and updated in Google Search and Maps.

Android & Web Developers Training

Android & Web Developers Training is one of the most in-demand job profiles at the moment. So if you are interested in learning the art of developing apps than who can be a better teacher than the tech giant Google itself. Whether if you are an experienced developer or just a novice there is content for everyone to hone their skills. This course helps learn with hands-on examples and practice questions and makes your skills marketable by applying best practices shared by instructors.
All of this courses are free of cost. After the completion of the course, one can share their information directly with big employers and take a step toward landing their first job.
Follow us on Instagram & Twitter for more updates!