It has been a full year since the famous Janata Curfew happened nationwide in order to fight against the novel coronavirus.
No one ever thought then that we would be celebrating the Janata curfew anniversary while facing the same situation, just a little less bad.
Exactly a year ago, Prime Minister Narendra Modi posed a 14-hour long Janata Curfew in the wake of the increasing cases of Covid-19 in the country. This soon extended to a 21-day nationwide lockdown.
Though all of us want an escape from these tough situations as soon as possible, there are still some moments to recall.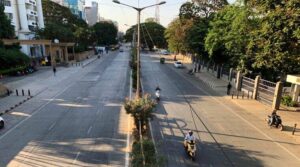 Let's take a quick look at the things we miss about those days:
Birds Sang; Vehicles Stopped
It was only during this time that we started to feel the warmth of nature again. Streets became quiet, rare birds came out of their nests and chirped all day. People began to enjoy the calmness and understood the importance of time. Moreover, pollution levels dropped to a significant amount, and this period made us appreciate the value of nature.
Banging Thalis from our Balconies
On 22nd March 2020, when the clock struck 5:00 pm, all citizens came out of their doorways, balconies or windows, and clapped their hands in unity. Same banged their thalis, others rang their bells in appreciation for the Corona warriors delivering these essential services. It was totally a "One nation, One voice" moment for all the Indians.
Spending quality time with family
When was the last time we had a peaceful family dinner with all the members sitting together in one place? Well, this pandemic era gave many chances like these to rebuild the long-lost bond in many families. From playing the #1 quarantine game, Ludo King, to watching movies with siblings till late at night, the lockdown days certainly have a lot of good memories to recall too!
The Period of Mahabharata and Ramayana
If not anything, the airing of Mahabharata and Ramayana on national TV is the one common good thing that brought joy in every Indian household. While parents relived their young days while remembering the plot and characters, their children learned a lot from both the legendary shows.
While here we are, marking the anniversary of Janata Curfew, none of us is surely in a mood to celebrate. Let's all hope for things to become normal like before, soon.
Stay safe!
Follow Us On Instagram For More!