Post-COVID college life is not going to be the same, we all know that. It has been months since we are attending our college semesters from the comfort of our homes. Our bed, blanket and pillows sure have a dear place in our hearts, but one can't deny longing for the missed corridor high-fives or your favourite cup of tea at the canteen. 
Yet, going back to routine after almost a year is going to be a toil. We sure are looking forward to hustling hard in the new normal, but we can't deny that after a year of not going out, stepping out in the post-covid college life will need multiple efforts!
1.THE BASICS
The pandemic has equipped us with 2 new essentials: a mask and sanitiser. From travelling on public transport, interacting with many people, to negligent social distancing, mask and sanitisers are essentials for all the right reasons. Going out without these almost feels like a crime. Without these, post-COVID college life is going to be incomplete.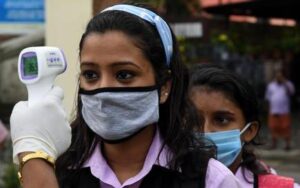 2. POST-COVID COLLEGE LIFE IS NOT GOING TO BE THE SAME 
College life seldom meant classes and studies, it was always venturing out with friends, creating new experiences or simply having our favourite snacks at our favourite spot. With the new precautions, be prepared for all this to be restricted. As saddening as it sounds, all this is for our safety and well being. Yet, the charm of meeting our friends on college grounds is going to be unparalleled, even with our masks on! 
3.ALTERED SLEEP SCHEDULE 
Living our millennial lives, our sleep schedules have been havoc throughout the lockdown. While waking up early was part of the routine earlier, doing so seems almost impossible for some of us now. Even if your sleep schedule is sorted, being awake and attentive during classes is going to be a task. Fasten your seatbelts sleepyheads, be prepared to not snooze your early morning alarms! 
4. A LOT LESS TIME, A LOT MORE TO DO 
Lockdown gave us the opportunity for distance learning, whether it was in the form of extra online courses, virtual internships, or simply learning how to make banana bread. Managing multiple things, along with doing the household seemed easy when you have the entire day to yourself. With the start of post-covid college life, doing this will seem like a mammoth task, as with elongated travel times, odd timings of classes, extra coaching or being exhausted from all of this, juggling extracurriculars will be a task. 
5.BE MENTALLY PREPARED TO STEP OUT IN THE WORLD 
Even when we have started to leave our isolation phases onwards a new normal, going to college and attending regular classes is going to feel surreal after a year of virtual learning. Prepare yourself to study attentively, experience public transport again, meet your friends at your college hangout spot and do whatever that made college special for you, but all while taking necessary precautions!
Follow us for more on Instagram!