The Examination division-conduct branch of GGSIPU recently released a notice regarding the supplementary theory examination.
The notice consists of details in respect of the test centre for various programmes.
Supplementary theory examinations are basically a second chance to improve your score. You are also eligible to sit down for a supplementary examination if you have a valid reason for missing the original exam.
After a long time now, theory examinations at GGSIPU will occur in offline mode at the declared centre.
Ever since the COVID-19 outbreak, only end term examinations for the GGSIPU students of last year were held physically. Rest almost all other examinations took place online.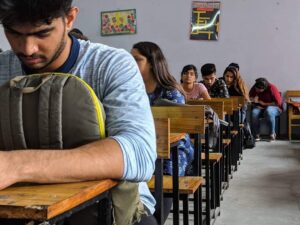 The Examination has been arranged keeping in mind Covid-19 guidelines and the protocols of social distancing.
As per the notice, the Centre for all examinations is the main campus, i.e., University School of Environment Management (USEM), Dwarka.
Guidelines for GGSIPU Supplementary Examination
The examination will be held between the month of March and April 2021 in three sessions, the timings of which are as follows:
Session I:
Timings for the examination are 8:30 A.M. – 10:30 A.M. The reporting time is between 7:30 A.M. to 8:15 A.M.
Session II:
Timings for the examination are 12 Noon– 2:00 P.M. The reporting time is between 11:00 A.M. to 11:45 A.M.
Session III:
Timings for the examination are 3:30 P.M.– 5:30 P.M. The reporting time is between 2:30 P.M. to 3:15 P.M.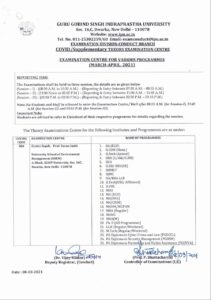 However, it is important to note that entry to the students and staff inside the examination centre will not be allowed after the reporting time exceeds for each respective session.
Students of various programmes must check their date sheet on the official website for details regarding the session.
The concept of dividing the examination into different sessions is to keep the students and staff safe in the best way possible.
There are a total of 25 programmes for which GGSIPU will be conducting this examination. Students must check the notice given on the website.
Follow Us On Instagram For More!