Amid all the gloom surrounding the global pandemic, the students of GGSIPU colleges are being subjected to a fee hike. The aggrieved students are given a month or two's deadline to deposit the enhanced fee.
After reaching out to the concerned authorities, students got reverted back with responses which did no good and left them even more helpless.
This isn't the first time in the history that GGSIPU colleges "maange more" however, the struggle and troubles that students are facing are much bigger this time.  
Reaction Of Students
Students of reputed GGSIPU colleges like Maharaja Agrasen Institute of Technology (MAIT) and Tecnia Institute of Advanced Studies (TIAS) reached out to IPU Buzz with their concerns.
"I am dependent on scholarship for this year. I haven't received any last year. How am I supposed to pay the fee?" , told one of the students. 
An agitated student who is currently outside Delhi expresses his inability to make an online payment due to the lack of resources.
"I am in my village right now. I don't have any provision to make an online payment. Am I expected to commute from Haryana to pay the fee while coronavirus cases are increasing every day?"
The students also mentioned how unjust it is to demand a hiked fee while no real classroom education took place in this semester. The offline classes got replaced with virtual education due to which no practicals could take place.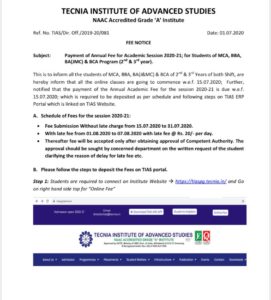 "We haven't had access to classrooms, laboratories, library, and playground in the current semester. Some fee relaxation was expected due to the same but we are rather facing a hike from our college."
Students from B.M Institute of Engineering and Technology (BMIET) did not have to face the fee hike but are supposed to deposit the fee by 15th July 2020. They received no firm response when asked for relaxation or date extension from the authorities.
Other GGSIPU colleges like Bhagwan Parshuram Institute of Technology (BPIT) and Guru Tegh Bahadur Institute of Technology (GTBIT) have also released notices regarding fee submission by 15th July 2020 in one go. Students' request for quarterly payment or relaxation hasn't been catered to yet.
The situation is even worse for students who belong from economically weaker sections or students who took education loans.
The Bigger Picture | Fee Hike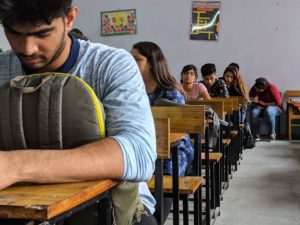 The lockdown has hampered our country's economy which was already growing at a slow pace earlier. As a result, the world of work is no more the same. There have been massive job losses and layoffs during this time. Most employers are trimming their staff to cut costs in these unprecedented times. 
The business activity has also been stalled due to economic disruptions. About 35% of micro, small and medium enterprises and 37% of self-employed individuals have started shutting their businesses, saying they saw no chance of recovery in the wake of the COVID outbreak, a survey by the All India Manufacturers' Organisation has revealed. 
For many households, the condition is so bad that it has boiled down to surviving on two square meals in order to get through the day. Paying a hiked fee when it's difficult to even earn the bread and butter is impossible for many students.
An individual is usually dependent on their savings (if any) to fill their stomachs in order to get through the hard days. One can't afford to lose those saved pennies in paying an enhanced fee during such tough times.
As the harsh summer unfolds, these students are facing larger problems which are also affecting their mental health. The desolated students are trying their best to fight for themselves amid the pandemic. However, their efforts proved to be fatal. 
Conclusion | Fee Hike: GGSIPU
Private education costs are skyrocketing, public universities like GGSIPU are the only refuge for many Indian students. However, the reality seems different as students are being subjected to a fee hike in the global pandemic.
Our economy is faltering, job losses throughout the nation have been at a staggering level and innumerable people are finding it hard to even earn the bare minimum for survival. Fee hike at such a time is an added burden on the families of students from these GGSIPU colleges.
Asking for an enhanced fee amid the COVID-19 outbreak is unfair on the humanitarian grounds and contradicts the very lesson that education imparts us.
Follow Us On Instagram And Twitter For The Latest Updates!