With examinations for college students around the corner, several students are reeling under Covid-induced exam stress. The onset of a second wave of the pandemic has given the exam stress an all-new dimension. The delay of classes resulted in a pending syllabus, but exams are still yet to be delayed.
Students who are already the victim of the exam-focused education system are now suffering even more due to the pandemic.
With classes going online for over a year now, there has been no physical peer-to-peer interaction, giving little room for the exchange of ideas. Along with these students are facing yet another problem of classes being delayed. However, when it comes to the exams, the delay isn't that obvious.
Everything Delayed, Except Exams
Stretched to the breaking point, the pressure of work and shortage of material during the second wave of coronavirus has certainly been a tipping point for many. From health to finances, every student is going through either one of these.
As students are approaching the end of their semesters. They have to appear for their externals and internals via online platforms.
Students seem to have more stress during these remote online exams. The exam duration, mode of question navigation, and technical problems (exam platform and internet connectivity) appeared as the main factors related to stress. Other factors include concern regarding the teaching methods, exam environment, and students' dishonesty in many cases.
With these already existing problems, students are encountered with another difficulty. Their syllabus has not been completed at the scheduled time. Despite the fact that the syllabus of courses has not been covered entirely and yet many institutions are conducting the end semester exams.
Problems Due to Mismanagement & Pending Syllabus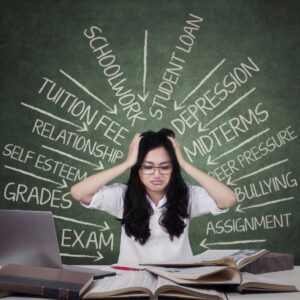 This seems to be a pure case of mismanagement between the authorities and institutions.
Students are suffering due to this mismanagement. The messed up situation of classes not taking place with an excess of syllabus yet to be covered. Ideally, exams should be held only after the syllabus is been completed by the teachers.
Even as the country battles the pandemic with a lockdown, educators have not forsaken their primary responsibility to the students which is a continuity in their education with the same exacting standards. Ideally, the approach towards handling such problems should be in a way that students should have the minimum pressure.
A few students went on to state about the issue in a message delivered to us.
Preferably students should be thinking about how to study more efficiently. They don't have to face problems due to mismanagement, which will in turn going to affect them mentally. Making an uncomfortable environment where students will have such discomfort in polishing their skills and knowledge.
Those online exams which will be held with the incomplete syllabus will be of no use. As youngsters won't gain knowledge from those, but only have more mental pressure on them.
For the latest updates, follow us on Instagram, Twitter & Facebook