Art in any form is therapeutic. Using art to raise funds for the goodwill of others is definitely a very appreciable deed.
Zenquestbypooja and the team are doing such a deed by organizing the 'Togetherness Project'. This initiative is bringing artists together to raise essential funds for COVID relief.
A live event where Bismil, will be performing Sufi music, combined with the energy of Bollywood retro.
Missing the live music experience?
Join Bismil on 29th March 2021, Saturday at 7:00 PM, and have an evening that will make you groove on your toes and take you to the healing world of music. What can be better than enjoying the essence of live music in the comfort of your home, while donating your money to the COVID relief funds.
Purchasing tickets to this live concert will help raise funds for the covid relief. All the money will be donated to the Hemkunt Foundation
Artists coming together for Covid Relief Funds
Performing for the Togetherness Project is singer/ composer Bismil whose individual album Tere Bina launched by Zee Music crossed 5.7 million views on Youtube. Bismil's renditions and style are the music you perhaps need in these unprecedented times.
Join Bismil for a soulful evening that will also help save lives. Listen to his most popular Songs: Tere Bina and Ki Kita.
Artist's YouTube channel: Bismil
Artist's Instagram handle: @bismil.live
The Togetherness Project: Covid Relief Funds
The Togetherness Project brings together artists in the spirit of working in support of the people who are struggling due to Covid-19. An initiative by Pooja Khera (Instagram Handle-zenquestbypooja) partnering with Skill box.
'Music Concert with Bismil' is powered by: Adda52.com, CSR partner and  GACS foundation. It'll be a soulful evening of Sufi Music combine with the energy of Bollywood retro and cover songs.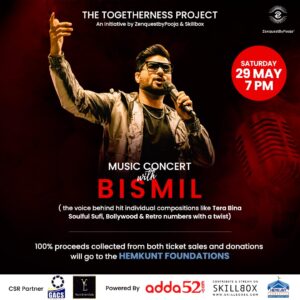 100% of this purchase is going to Hemkunt foundation.
Know Your Funds: The Hemkunt Foundation
The Hemkunt Foundation is a non-government organization (NGO) that works for the humanitarian cause of supporting free oxygen to Covid-19 patients across India. This initiative has collaborated with comedians and musicians to raise funds for providing relief and assistance to patients.
With several ongoing projects towards this cause, Hemkunt Foundation has already helped more than 10,000 people who were affected by Covid-19.
'Live Music with Bismil' can be accessed at a minimum donation of INR 499.
However, you have the option of donating a higher amount.
Click here to donate and buy tickets for the concert.
For any issues during the stream, the organisers have come up with customer support services at +91-9821692935 / +91-8168767820 or write to them at contact@skillboxes.com.