The students from all walks of life have their lives disrupted. Involving these demographics, are the students of GGSIPU, waiting for the BSc nursing result by GGSIPU.
With rapid surge in Covid-19 cases across the country, citizens' life has disrupted massively. Along with that, the whole education system has been disturbed.
Many exams have either been cancelled or postponed, and classes being continued on the online platform. Freshers are not getting the opportunity to start their journey. Not only that, even students of the final year are not allowed to complete their graduation journey.
As seen with the final year students of B.Sc. (H) Nursing in affiliated colleges of GGSIPU. The students enrolled in the BSc Nursing course were supposed to graduate by now. However, a delay in the conduction of exams and now the final results have placed them in a predicament.
Students' Stress in Pandemic.
B.Sc Nursing Result GGSIPU: Students Counting Days
Around 200 undergraduates of B.Sc(H) Nursing batch 2016-2020 of colleges affiliated with GGSIPU, are showing distress towards their institution.
These final-year students were supposed to get the degrees of their respective courses by the end of 2020. But due to the covid-19 pandemic, their exams were postponed. Their final exams were supposed to end by 30th September 2020. After the delay of 6 months, their exams were conducted in March 2021.
Now, after 2 months from the completion of exams, students aren't aware of the status of their exam results. According to the students, the university hasn't intimated them regarding news about their exam results.
Everyone understands the severity of this pandemic situation, and things being delayed. But 200 students who are still waiting to be graduated with their degrees are in a dire position of stress, anxiety and confusion. Completion of their degree has been delayed by 7 months and 18 days. Out of those 200 students, many have student loans, to pay for.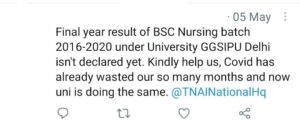 Students tried many ways to reach out to the university, in order to get a response on the Nursing result by GGSIPU. They have called the university office and have been continuously sending emails. To put light on this issue, students are showing their discomfort through tweets in the hope of putting their careers back on track.
While this is one of the many courses, students from other areas are citing their concerns regarding delayed results and exam dates as well.