Students from various institutes are protesting against orders to make payment of full fees, saying they haven't used any campus resources. With COVID-19 cases continuing to surge across the country, several higher educational institutions have resorted to online classes for its students.
However, though classes are being held virtually, many colleges are demanding payment of full fees, which include infrastructural costs that the students are not currently accessing.
As a result, students from several of these colleges are now refusing to pay the entire fees or are facing financial problems.
In India, schools and colleges have been shut since March, when the lockdown to arrest the spread of the novel coronavirus was announced by Prime Minister Narendra Modi. Even though several restrictions have been lifted under 'Unlock 3' initiated this month, educational institutions have been directed to remain shut till 31 August even tough uncertainty continues regarding the reopening of these institutes, some colleges have sent circulars asking students to clear their fees.
Payment in instalments has it's benefits for both colleges and students, firstly it will be less burden on parents and secondly whenever the colleges re-open students can pay the fees for the facilities then and there for the left months of the session. The students are putting their effort trying to understand lectures, using whatever services they can arrange to study online, setting up internet and paying the bill too, the students are as it is paying for the internet services and other services.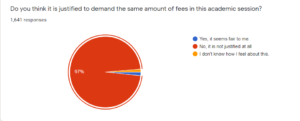 58.5% of students find it unjustified to pay a hefty amount for a few online classes. The mode of payment should also be flexible and should provide a good span of time also so that there is not much load on parents and students.
There have been complaints of technical issues like a rejection of fees from students' end and payment platforms are also haunting them as colleges are flooded with complaints from students that they have paid online but there is no confirmation yet.
In times of a pandemic as well as the financial crisis, is too much to ask the universities to give some relaxation or an alternate method to pay fees?
For more news updates, check out our Instagram and Twitter.