4.4% of students rely upon their scholarships to pay their college fee, according to the GGSIPU fee issue survey conducted by IPU Buzz.
Keeping in mind the current scenario and situation of the students, we conducted a survey to get a concise data on the same. The survey recorded responses from 1641 GGSIPU students from different colleges and educational backgrounds.
It is no news that this pandemic has adversely affected almost everyone in one way or the other. The COVID-19 pandemic has had far-reaching consequences beyond the spread of the disease itself and efforts to quarantine it, with people losing their jobs and barely being able to survive.
If that wasn't enough, students of GGSIPU are now facing anxiety and distress, as they have been asked to pay their enormous college fee with a deadline.
ALSO, READ: 5.1% students have no means to pay fees digitally
Scholarship Dependent Students
About 97% of respondents felt that the action taken by the colleges demanding the same amount of fees in this academic session is unjustified. The reasons of the same varied, with many claiming that their economic situation has become very critical.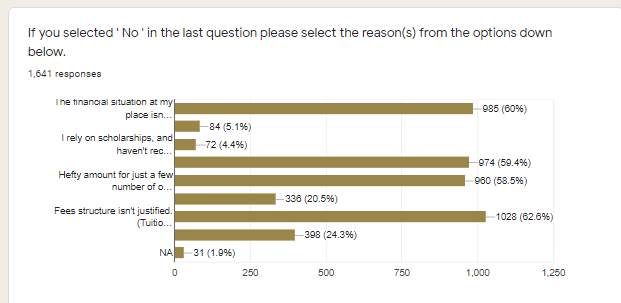 A lot of students depend on their scholarship money to pay their college fee. However, because of this pandemic, that too has been obstructed, and students are now helpless.
Instalment Method: The Way To Go?
Instalment method has been put forward by many students in consensus. However, many still insisted that it won't do. The fact that students aren't using any of the college resources including library, labs, canteen, electricity etc as they were using in the previous semesters, and are still expected to pay the same fee is unreasonable.
"Exclude the amount of the fee spent over laboratories, electricity and water supply etc from the fees. Also, they should return the previous semester's exam fees as no exams were conducted." wrote one of the students.
ALSO, READ: How much is too much – Unjustified Fee Structure
Stay tuned as we bring out the data behind what the students said on the entire fee fiasco in GGSIPU.
Check out our Instagram page for more updates!