The first season of Stranger Things in 2016 marked the first real, huge streaming TV phenomenon. Other Netflix shows had made an impression before: "House of Cards" in 2013 and "Orange Is the New Black" shortly thereafter proved that streaming was coming for cable's gig, hard. But it was the nostalgia grabs and exhilarating monster chases of "Stranger Things" that truly exploded in the zeitgeist — which is the only concrete factor we have to go on, given Netflix's famous reticence to disclose viewership numbers.
Starring: Cara Buono, Matthew Modine, David Harbour
Creator: Matt Duffer and Ross Duffer
Genre(s): Drama, Horror, Suspense, Science Fiction
PLOT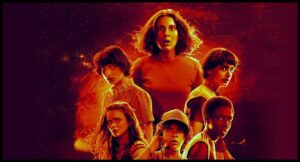 STRANGER THINGS centers on the mysterious disappearance of young Will (Noah Schnapp), who vanishes in the woods while biking home from a Dungeons & Dragons session with his friends. His terrified mother, Joyce (Winona Ryder), and his brother, Jonathan (Charlie Heaton), are certain something terrible has happened to him, and the detective leading the search team, Chief Hopper (David Harbour), is increasingly worried, too. Meanwhile, a mysterious young girl, Eleven (Millie Bobby Brown), has escaped from a shadowy experimental facility — one that seems connected with an otherworldly creature that dispatches its victims from above, grunts and growls when near, and leaves behind pulsing webs of gray matter. Where is Will? What is the creature we hear but don't see? And just what are those officials up to in their secret laboratory?
WORTH IT?
Dark, creepy, and sublimely intriguing. This 1980s throwback will remind you of many a vintage-era sci-fi/horror movie, in the most pleasant way imaginable. The cast is clad in dated '80s wear, walls are (fake) wood-paneled, phones are firmly attached to cords, and kids are free enough to race around on their bicycles, looking for clues. Meanwhile, a missing boy and an appeared-from-nowhere girl are our first clues that all is not as it seems in the small-town setting, as are glimpses of a military locale staffed with white-suited, terrified doctors on the trail of a huge creature who seems to have made an escape.
Violence and gore are low; atmosphere and spookiness are high — and with characters of kid- and parent-age to relate to. The whole family will have someone to root for. Stranger Things is a bit too creepy for the youngest viewers. But tweens and teens will be interested in the mystery and compelled by the finely drawn characters. With adults additionally amused by the vintage clothing, technology, and prices. As well as charmed by the spunkiness of the middle school-age heroes. Who are ready, willing, and able to save the day when the adults in their lives are stymied.
FOR MORE UPDATES, FOLLOW US ON Instagram