The IP University admissions for 2021 are finally open. Are you one of the many other BBA CET aspirants to get into Guru Gobind Singh Indraprastha University?
Well, you're at the right place then. The applications for BBA CET 2021 are finally open and one can fill it up on ipu.admissions.nic.in
This article might just be the article you are looking for, as at the end we've added a few words from the students who have appeared for the IP University's BBA CET and can help you out better.
So, read this article till the end and let's crack the BBA CET, like a boss.
About The Course
The Bachelor of Business Administration is a bachelor's degree in business administration. It is a 3-year professional undergraduate program that deals with Business Management. Business Law, Marketing Management, and E-Commerce are some of the core topics discussed in the BBA subject catalogue. Specializations like BBA in Accounting or Statistics gives an in-depth knowledge of that specific topic.
Duration: 6 semesters (3 years)
CET Code: 125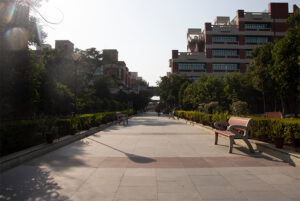 IPU CET BBA 2020 At A Glance
Mode of Examination: Offline Mode 

Test duration: 2 Hours 30 Minutes(150 minutes)

Number of Questions: 150 questions

Total marks: 600 

Marking scheme: 4 marks for every correct answer

Negative marking: 1 mark will be deducted for every incorrect answer
Note: Multiple answers to one question will be treated as an incorrect answer.
Test Pattern
Each section will encompass 25% weightage. These are the following sections in BBA CET:
1.English Language and Comprehension 
Prepositions, Article, etc.

Sentence construction

Narration

Vocabulary
2.General Awareness
National culture and history

Geography and natural resources

Science and Technology

International Affairs

Current national events
3.Logical and Analytical Ability
4.Aptitude Related to Field Management and Communication Skills
General Management Awareness and Concepts

Application of different Business Modules

Understanding and Application of Managerial Principles 
Ways To Crack GGSIPU BBA CET
Study with planning and strategy
Always plan and strategies first rather than starting without an ambition. Make daily plans for your work and preparation.
Work on areas of difficulty
Suppose you're weak in General Awareness then start reading newspapers or download news related apps to have basic information. Not every area is your area but still having some basic information is always a must.
It is always necessary to have comprehensive and revised study material for staying up to date with the latest questions and methods that come in the exam.
In conclusion, utilize each and every second for preparing and sail through the CET with ease. Read more and more books, newspapers, and your 11th and 12th class Business Studies books. Stay tuned for more such guidelines on CET.
Learn From The Ones Been There | BBA CET
At the end of the day, it's always best to learn from the ones who've been there, done that. So, here are a few of your probable seniors who give you some insightful tips about the exam.
"Realise that it's just an exam. Plus, during the exam don't just lie around on one question. Chill out, drink some water and move on to the next question. There will be many other easier questions on the next page. Happened with me and worked for me." (Appeared in BBA 2019).
"Just start brushing up on the current affairs, as much as you can. That's what worked for me. Now, since the logical and numerical part was my weak point, I didn't work much. English is something you can score easily in if you are well-read." (Appeared in BBA CET 2018)