The SSC CGL 2018 exam final result has not been declared. It has been over 6 months since the tier 3 exam and the candidates are still waiting. Candidates have started a twitter campaign, frustrated beyond measures with #SSCdeclareCGLresult.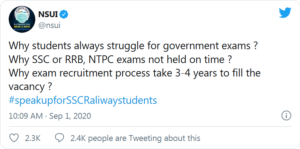 CGL 2018 Exam Structure
Selection to Combined Graduate Level (CGL) posts is done through three exams: tier 1, tier 2, and tier 3. These exams are held in succession and at each level, candidates are selected on the basis of their performance and are shortlisted for the next level.
The SSC CGL 2018 tier 3 exam was held on December 29, 2019. Over 50,000 candidates were shortlisted for the exam. Through SSC CGL 2018, a total of 11,271 vacancies will be filled.
SSC's Stance | CGL 2018 Exam Final Result
The Staff Selection Commission (SSC) had notified on August 21, 2020, that it is in the process of announcing the result. SSC released a statement saying, "The Commission would like to inform the candidates that all-out efforts to expedite the result of the said examination are being made, in spite of the prevailing difficulties due to the current COVID-19 pandemic situation. It is the sincere endeavor of the Commission to ensure that the result of the examination is announced as early as possible."
Twitter Campaign | CGL 2018 Exam Final Result
Almost a week after the SSC released the notice, candidates have started the online campaign demanding to release their results soon.
Various student bodies, political parties, and leaders have also supported the candidates in this online campaign.
Congress MP Rahul Gandhi today criticized the center over delays in exams and results. NSUI, the student body affiliated to Congress also came in support of the candidates. Rashtriya Janata Dal (RJD) said the government has shunned issues of the people.
Follow us on Facebook, Instagram, and Twitter for the latest updates and wholesome content.