Kashmiris have traditionally observed October 27 as a Black Day to mark the first landing of Indian troops in the Valley in 1947 to push back Pakistan-backed tribal invaders. 
On this day, two months after India's partition, the Pakistan-based militia laid siege on Baramulla, during which thousands of men, women, and children were killed. The day seeks to remind the world how Pakistan has been responsible for the unrest in the region, leading to continuous conflict, violence, and terrorism in Kashmir.
By October 1947, Kashmir was in high ferment. For months before the independence of India and the creation of Pakistan, Hari Singh, the Hindu ruler of Muslim-majority Kashmir, was facing a rebellion in Poonch by Muslim subjects who refused to pay taxes and launched an armed insurgency. Hari Singh deployed the Kashmir state forces to a crackdown. At the same time, with Partition nearing, Hindus and Sikhs had been crossing into Jammu, bringing with them stories of harrowing violence in Rawalpindi and other areas. Jammu had turned into a communal cauldron by the time anti-Muslim clashes broke out. There are varying versions of how many Muslims were killed, but most accounts speak of the riots as a massacre.
Pakistan maintained it had nothing to do with this invasion, but evidence to the contrary has come up in several accounts including that by Major-General Akbar Khan of the Pakistan Army, in his book Raiders of Kashmir. Indian military histories say the invasion was planned two months ahead by the Pakistan Army and codenamed Operation Gulmarg.
Two Kashmiris are celebrated for their resistance that helped keep the invaders out of Srinagar for a few days, until Indian troops arrived on October 27, a day after Hari Singh signed the Instrument of Accession to India.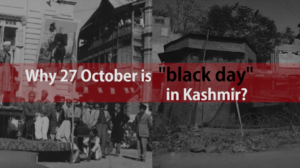 One is Brigadier Rajinder Singh, who had just been appointed as the new Chief of Staff of the state forces. He had headed out of Srinagar with 200 troops, and his decision to blow up a bridge in Uri slowed the advance of the tribesmen, although it did not stop them. Singh was killed in action on October 25.
The other is Shahid Maqbool Sherwani, whose story has been immortalized by Mulk Raj Anand in Death of a Hero. Sherwani, a National Conference worker in Baramulla, gave the invaders wrong directions to Srinagar airport. He was crucified by them when they realized he had tricked them.
After Hari Singh signed off on the accession, four Dakotas flew to Srinagar from Delhi through October 27 transporting troops. More troops followed over the next few days. The invaders were held off close to Srinagar, at a place called Shalteng, and there was a battle in Budgam, close to the airport. By November 8, the Indian Army had taken control of Srinagar; on November 9, of Baramulla; and by November 13, of Uri.
However, with Pakistani forces formally entering the battlefield in support of the tribesmen, the war would continue for over a year, until a ceasefire was declared on the night of December 31, 1948, and the terms of the ceasefire were accepted on January 5, 1949.
(With Inputs from Indian Express, Firstpost, Mint, and others)
Follow us on Instagram and Twitter for more updates!