On 17th October, residents of Lailapur village in Assam's Cachar district clashed with residents of localities near Vairengte in Mizoram's Kolasib district. On October 9, a similar clash took place on the border of Karimganj (Assam) and Mamit (Mizoram) districts.
On October 9, a farm hut and a betel nut plantation belonging to two Mizoram residents were set on fire. On Saturday, some people from Lailapur started pelting stones at Mizoram police personnel and Mizoram residents. "In turn, Mizoram residents mobilized and went after them," Kolasib Deputy Commissioner H Lalthangliana said.
"According to an agreement between the governments of Assam and Mizoram some years ago, the status quo should be maintained in no man's land in the border area. However, people from Lailapur broke the status quo and allegedly constructed some temporary huts.
The two states have deployed security personnel, including those of the Indian Reserve Battalion, in the violence-hit areas near the Vairengte village in Mizoram and Assam's Lailapur, officials said.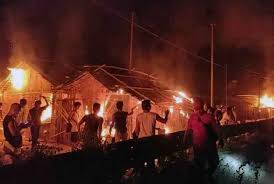 Vairengte in Kolasib district is on the northern fringe of Mizoram through which the National Highway 306 (formerly 54) passes, linking the state to Assam. The nearest village in Assam is Lailapur, which is in the Cachar district.
Kolasib district deputy commissioner H Lalthlangliana told PTI that a large number of Vairengte residents assembled when some people from Assam, armed with sticks and dao, pelted stones at a group near the auto-rickshaw stand on the outskirts of the border village on Saturday evening.
The irate mob from Vairengte retaliated and set on fire about 20 temporary bamboo huts and stalls built along the national highway by residents of Lailapur despite a prohibitory order being in place, he said.
The incident could be the fallout of the demolition of a makeshift hut used by local volunteers who guard the inter-state border near the Saihaipui 'V' village, about 3 km from Vairengte, he said.
(With content inputs from The mint, The Indian Express, and others)
Follow us on Instagram and Twitter for more updates!