A group of India's top scientists believes that India has passed its peak of coronavirus. Their latest mathematical model suggests that India has passed its peak of reported infections in September and the pandemic can be controlled by February next year. All such models assume the obvious: people will wear masks, avoid large gatherings, maintain social distancing, and wash hands.
India has recorded some 7.5 million Covid-19 cases and more than 114,000 deaths so far. The virus has been bugging our back since march but even with numerous cases and a huge population in the country, India has a low death rate.
It hit the record peak in mid-September where a million active cases were reported. Since then the caseload has been declining.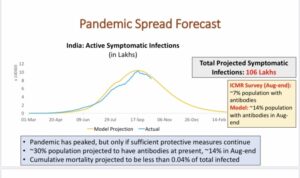 The normalcy is returning as everything is opening in phased manners. The cinema halls being the latest. But the number of cases has fallen sharply. On the other hand, Italy and France are witnessing the second wave of infections and imposing restrictions slowly.
A government-appointed panel including professors from IITs and scientists revealed that India is now past its coronavirus peak. From a peak of 97,000-plus cases in September, India is now staggering around 60,000-plus cases a day.
Scientists have been working day and night. The seven scientists involved in the latest mathematical study commissioned by the government, Created a model that looks at the rate at which people are getting infected, the rate at which they have recovered or died, and the fraction of infected people with significant symptoms. The model also maps the trajectory of the disease by accounting for patients who have shown no signs of infection.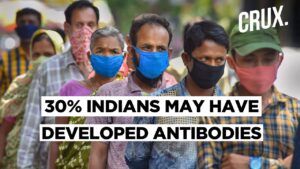 With the help of the model, they have concluded to the decision that the peak has been passed. The virus might be coming to rest. A lot of infected patients show no symptoms of the virus and the improvement is so far good. Hopefully, all will get back to normal soon.
But even if the wave is gone, we still have to maintain all the precautions; Saying home is obviously not a solution anymore but minimize going out. Don't use public transport, Wear masks, Keep sanitizing, Avoid public gatherings, and Stay safe.
It's time to get back at life but you have to be very careful,  stay safe, and keep working.