As we all know that India's National Educational Policy has changed after 34 years. With changes come questions and queries too. So now our Education Minister Ramesh Pokhriyal will answer the queries on National Educational Policy on September 1, 2020.
What Is National Education Policy 2020?
A National Education Policy is a comprehensive framework to guide the development of education in the country. The NEP proposes sweeping changes including opening up of Indian higher education. Every country has a new Education Policy after every decade but for ours, it took three. Admissions to colleges will include mandatory entrance examinations along with multiple entries and exit points during the course. Academic Bank of Credit will also be set for the students and the college education bodies like the UGCC, AICTE, NAAC will be replaced with a single autonomous body. 
How To Ask Questions Regarding NEP 2020?
According to the information provided, the minister has set aside an entire day to answer questions on the new NEP although an exact date for the same has not been released yet. Those who have queries related to the National Education Policy can send in their questions to the minister with a hashtag #NEPTransformingIndia on Twitter and Facebook.
Meeting Regarding NEP
On 22 August 2020, the Education Minister held a meeting with the director of the National Council of Educational Research and Training(NCERT) to discuss the preparations for the framework and implementation of the New Education Policy.
Union Education Minister Ramesh Pokhriyal will be conducting a question and answer session with students, teachers, and parents on NEP. The announcement was made through his official Twitter account. 
Tweet By Union Education Minister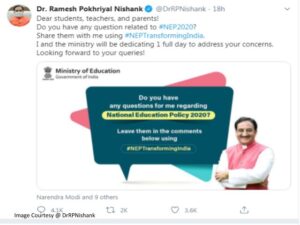 The introduction of the new National Education Policy has brought in numerous queries since the changes incorporated in the New Education Policy are hard to understand. So this will prove beneficial for all.
Follow us on
Instagram
and
Twitter
for the latest updates!