Delhi Metropolitan Education also is known as DME is located in Sector 62, Noida, Delhi, India and offers the degrees in five-year undergraduate B.A., LL.B., and B.B.A. LL.B. program, Bachelor in Journalism and Mass Communication, and Bachelor in Business Administration.  It is affiliated to Guru Gobind Singh Indraprastha University, New Delhi, and is recognized by the Bar Council of India. Admission is strictly through the CET
conducted annually by Guru Gobind Singh Indraprastha University.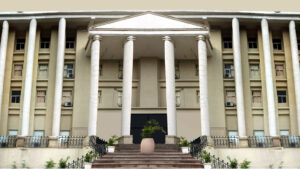 Major courses offered| DME
The following courses are available at DME-
1. BBA
2. BA+LLB
3. BJMC
4. BJMC
Societies| DME
Dance Society- Fitoor
Sports Society
Photography Society- DME Frames
Music Society- Alankaar
Art Society- Spectrum Art Society
TV Society
Entrepreneurship Cell- Timulus

Literary And Debating Society- Abhivyakti

Radio Society- DME Radio Intersect

Film Appreciation Society- Cine Treasures

FLY

   

Fashion Society
Cyber Cell
SPARC: Students With Positive Attitude & Resonating Communication
Eco Club

 

 

 
Facilitites| DME
At DME, they have the first-rate infrastructure, Wi-Fi enabled campus, with strong academic facilities to provide a dynamic and clinical grounding for success.
1. Amphitheatre
During the classical antiquity in Greece, the open-air venue Amphitheatre was used for entertainment, performances, and many other cultural activities. Working on similar lines, the DME's Amphitheatre is used for cultural activities like music, theatre, talks, poetry reading, documentary screening, various language festivals, art competitions, and many other activities.
2. Nelson Mandela Auditorium
At DME's Nelson Mandela Auditorium Students get an opportunity to showcase their talents through cultural festivals and societies. DME aspires to help students develop holistically.
3. Rabindra Nath Tagore Library
The library is named after Nobel Laureate Rabindranath Tagore and it reflects his world vision with thousands of books across various subjects. Rabindra Nath Tagore Library houses books on diverse subjects taught along with a strong collection of subscription-based journals, magazines, referred books and general reading books.
4. Coffee shop and cafeteria
The canteen is situated within the DME campus. It is open for all and there is a huge and colorful separate and comfortable arrangement. All types of snacks, soft drinks, meals are available at subsidized rates. It is a student's favorite hangout zone for class discussions. A comfortable coffee shop serving a range of hygienic and delicious snacks only complements the atmosphere.
5. Lecture Rooms
Lecture rooms are aesthetically designed air-conditioned. They are also equipped with high-speed internet connectivity, hi-definition projectors enriching classroom experience. Amphitheater style AC Lecture Rooms provide a clear one point vision without any angular perspective.
Placements| DME
Training & Placement Cell works towards increasing the employability of the students and consequently providing them ideal platforms. They are constantly involved in creating excellent tie-ups with prospective employers. They build relationships with them by initially sending them our students for internships. For a young institution, they have a stellar placement record.
Follow us on Instagram and Twitter for more updates!