University School of Biotechnology also known as USBT is a constituent institute of Guru Gobind Singh Indraprastha University. The school has recently transferred to the Dwarka Campus of the University. The University School of Biotechnology ranked third all over India after the National Dairy Research Institute of Karnal and Department of Biochemical Engineering & Biotechnology, IIT Delhi.
The University School of Biotechnology offers the following specialized streams:
B.Tech./M.Tech. – 5 ½ Years for Integrated program
B.Tech. -4 Years program
Ph.D. – a minimum of 2 years
Research and development work in biotechnology also takes place in the University school. The school was ranked first in the country for its infrastructure and third in the country for imparting quality education in biotechnology.
USBT: Major Takeaways
Facilities
1. Wolrd-class classrooms with video conferencing facilities.
2. Cooperative mess with a sports complex
3. Various departmental annexes
3. Medical help
4. Societies/Clubs
5. Fests- Technical and Cultural
6. Students Affair Council
7. Departmental based laboritaries facility for students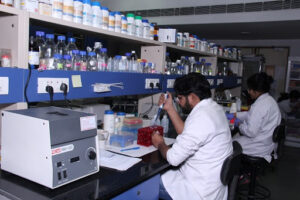 Placement Details
University School of Biotechnology Delhi has established a full-fledged training and placement cell that periodically interacts with the corporate world in order to explore the possibility of training and job placements of students. Training and placement cell provides the following facilities at the college premises:
1. Conducts industrial visits and industry-oriented training programs.
2. Conducts personal mock interviews and group discussions to make students aware of selection procedures.
3. Summer industrial training, internship, and final placement of students.
4. Invite professional guest speakers to impart necessary inputs for the above-mentioned activities.
Check out our Instagram and Twitter for more updates