"The college fee issue has made me use Twitter." 
Students' rage knows no bounds as their worries aren't just limited to their uncertain future. Who thought there's something worse in store for the students than the pandemic itself?
Well, the students' concerns regarding the college fee issue still remain unaddressed. However, the ceaseless uproar has now reached Twitter!
GGSIPU students are consistently tweeting about their concerns regarding the fee issue. Hashtags #FeesMaafKaroYaHalfKaro and #FeesKamKarona are being used by the students in their tweets.
The power of Tweets
Twitter is a great platform to amplify suppressed voices and make them reach the concerned authorities. Tweeting and retweeting while using the correct hashtags until their voices get heard is the only resort that students have currently.
It is not the first time that GGSIPU students are being subjected to a fee hike. Unfortunately, the previous batches had to go through the same. However, the Twitter uproar back then reached Delhi's CM Arwind Kejriwal. This brought students' concerns to the forefront. Such is the power of tweets!
Another effective way of raising your voice is by filling the college fee survey being conducted by IPU Buzz. A mobilised voice and opinion backed by data and facts make much more sense than an unorganised movement with a common objective. Developing an effective channel of communication and raising a collective voice is the need of the hour.
Unity = Victory
"Alone we can do so little; together, we can do much."
A plethora of helpless and frustrated students are now fighting as one single unit against the unreasonable demand for an enhanced fee. Raising a collective voice in the right manner can help students reach their common goals. Always remember that our unity is our strength.
What Do The Students Want?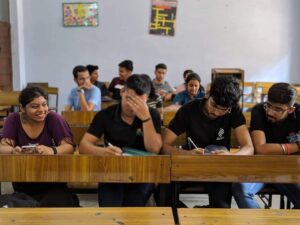 The students want their colleges to their concerns into account. A little more empathy and understanding can bring major changes.
Colleges can adopt an installment model that enables its students to make the payment in 2-3 rounds. For the economically weaker section, a fee waiver policy like The University of Haryana can be introduced. The students also want some relaxation in the fee amount as they won't be able to avail the college's infrastructure and other facilities this semester.
Paying normal fees at an abnormal time isn't fair. Demanding a normal fee is unreasonable whereas demanding a hiked amount is completely unethical.