Netflix, Amazon Prime, ALT Balaji, and Hotstar; these are some of the entertainment platforms which have gradually become an important part of our day to day lives, especially during coronavirus lockdown.
All of us need to be productive; grow and develop every day, but apart from productivity all of us also need to keep ourselves entertained to keep ourselves away from boredom and anxiety. This is when the Indian web series comes to our rescue.
Indian Creators try to go beyond their imagination in order to keep us entertained. Here are 5  Indian web series that will keep you entertained and hooked.
1. The Family Man
The Family Man is an Indian Action Drama. A story of a middle-class man Srikant Tiwari, serving as an intelligence officer for T.A.S.C, a fictitious branch of the National Investigation Agency. He tries to balance his family responsibilities along with his highly secretive special cell duty.
Where to watch: Amazon Prime
No. of seasons: 1
Commitment: 10 episodes, 45-50 minutes each
IMDb: 8.6
2. Paatal Lok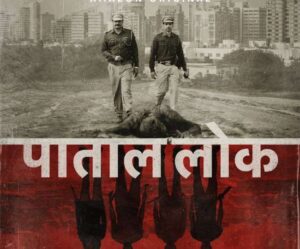 Paatal Lok is an Indian thriller web series based on crime and corruption, inspired by the traditional Indian concepts of Swarga, Dharti, and Paatal (The Heaven, The Earth, and The Hell). A cynical inspector Hathiram Chaudary investigates a high profile case of an assassination attempt gone wrong, which leads him to the dark side of the underworld.
Where to watch: Amazon Prime
No. of seasons: 1
Commitment: 9 episodes, 42-47 minutes each
IMDb: 7.7
3. Breathe
Breathe is again an Indian crime drama thriller web series with a very intriguing storyline "How far would you go to protect the one you love?" The story revolves around two ordinary people facing extraordinary circumstances.
Where to watch: Amazon Prime
No. of seasons: 1
Commitment: 8 episodes, 30-40 minutes each
IMDb: 8.4
4. Apharan
Conspiracy, mystery, suspense, action, kidnapping, thriller, and drama are the key genres that will make you sit by your devices and binge-watch Apharan. The story revolves around a senior inspector Rudra Srivastava, who unknowingly drags himself into a deadly conspiracy that unfolds.
Where to watch: ALT Balaji
No. of seasons: 1
Commitment: 12 episodes, 20-24 minutes each
IMDb: 8.4
5. Criminal Justice
Another crime, mystery and thriller based series starring Vikrant Massey as Aditya, is filled with lots of drama and suspense. The story unfolds how a one night stand turns into a nightmare for Aditya. Is he guilty of committing a murder or not?
Where to watch: Hotstar
No. of seasons: 1
Commitment: 10 episodes, 37-45 minutes each
IMDb: 8.1