Over the last six decades, the KCC Institutes has been actively involved in the quality dispensation of technical and higher education on a pan-India basis through on-line and network education. The Group has also been credited for innovating virtual methods of dissemination of education in collaboration with various State Universities.
Major Courses Offered| KCC
BBA
BCA
BA (JMC)
Com.(Hons.)
Tech Electronics & Communication
Tech in Mechanical Engineering
Tech. in Computer Science & Engineering
Tech. in Computer Science & Engineering
Tech Mechanical Engineering
Tech Electronics & Communication
Tech Electrical Engineering
Tech Civil Engineering
Tech Information Technology
Computer Science and Engineering (IOT)
Computer Science and Engineering (Artificial Learning and Machine Learning)
Computer Science and Engineering (Data Science)
Facilities| KCC
1. Library
Libraries are rightly called the storehouse of valuable knowledge. The institute's library spread over 6000 sq. ft. provides access to the best available resources to the students. The library has a separate reading section, reference section, and stacking section. The unmatched quality and quantity of material available is also supplemented by courteous and competent staff for facilitating students. The institute has constituted a separate library committee that selects and ensures the regular availability of the latest books and reading material in the library. The provision of open access e-resource through the internet no longer confines a student to the library only.
2. Auditorium
The auditorium is one of the best in the NCR region. It's a well-furnished fully air-conditioned auditorium having a seating capacity of more than 400 equipped with perfect acoustics, line array-based speaker systems, finest projection systems, and Green Rooms. The auditorium is used for conducting various cultural, academic, and social events.
3. Lecture Hall
The user-friendly classroom environment makes it possible for our students to concentrate entirely on class proceedings in an environment that is both interactive and un-intimidating. In the Management Block, Wi-Fi Internet access is provided so that students may access resource materials, e-learning videos, and other educational aids instantly in real-time while the lecture is in progress.
4. Conference Room
The air-conditioned conference rooms are fully equipped with the latest audio-video technologies which can connect to the Internet on demand. Conference rooms are also used to conduct seminars as well as to screen learning videos under faculty supervision.
5. Seminar room
Each department is equipped with an air-conditioned seminar room having a seating capacity of 200 and loaded with the finest of the projector and sound system. The seminar room is used for various conferences, seminars, and has played a host to various guests from the industry who have shared their valuable industry insights with the students.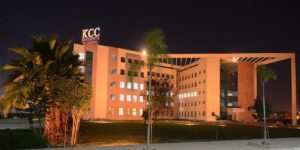 6. Hostel 
The KCC Institute hostel is a state of the art infrastructure that makes each and every student's stay a memorable experience. It provides a safe and perfect ambiance of a home away from home where students live together, learns together, and care for one another. At KCC, we believe that the hostel plays an important role in a student's academic and social adjustment to the Institute. Thus, we have taken extra care to ensure that you get world-class amenities in the confines of your hostel.
7. Sports Complex
The complex has facilities for various sports like Billiards, Table Tennis, Badminton, Cricket Pitch, Lawn Tennis, Basketball Volleyball, Football
8. Canteen
The College Canteen at the KCC Institutes is open all day including weekends to serve the Institute's students, faculty, and employees with nutritious and sumptuous delicacies. It is a spacious and well-lit sit-down restaurant style facility which serves a wide variety of Indian and continental snacks that are prepared and served fresh.
9. Transport
KCC Institutes is strategically located in Greater Noida with easy access from all the major traffic points in the Delhi NCR area. However, with a view to further enhancing campus accessibility, the Institute provides regular bus transport to and from the Delhi Metro Botanical Garden Station in Noida for the convenience of its students.
Placements| KCC
Special grooming sessions are conducted wherein communication skills, presentation skills, physical grooming, and corporate dressing issues of students are addressed apart from seminars, guest lectures & career conferences. There is constant interaction between the students and the placement in-charge throughout the program. The placement cell conducts various talk sessions with experienced career advisors to keep the students abreast of the various avenues available for them. Mock interviews give a clear cut direction to the faculty as to which aspects of a student requires special attention. HR cell is committed to utilizing its diversified & strong industry links for the placement of students in prestigious organizations.
Follow us on Instagram and Twitter for more updates!