GirlUp Voice in collaboration with TWEET India (a registered organization empowering Trans
Movement in our country) is organizing, PROJECT INAAYAT, a fundraiser campaign for the transgender community of our country.
Project INAAYAT is a month-long campaign that aims to educate the society about the struggles of acceptance and unjust behavior towards the transgender community. The community has battled right from the start, they are the victims of trauma, rejection, and
discrimination in society.
GirlUp Voice is now in collaboration with TWEET Foundation presents Hirayat!
Hirayat is a panel discussion where 5 transgender activists will discuss the struggles of acceptance and the constant challenges faced by the transgender community. Panelists for the discussion are: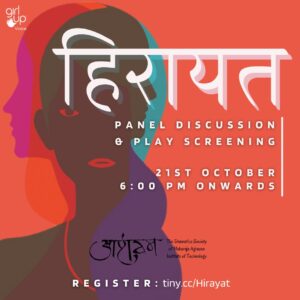 Ms. Nitasha Biswas(India's first Transgender beauty pageant winner)
Mr. Sanjay Negi (Roadies Revolution fame)
Mrs. Padma Kumari ( Trans Rights Activist)
The panel discussion will be followed by the street play "De taali" by Aayaam, the theatre society of MAIT.
De Taali talks about how the stigma we imposed on transgenders has affected them, for they are seen as we want to see them and they have been living as we want them to live. The play leaves a question mark on us, the ones who chose their fate, based on the gender
they chose and challenges the liberty we take to define the limits of their lives.
Save the date 21st October 2020 and Register HERE!
Girl up is an @unfoundation initiative for uniting girls to change the world!
Girl Up Voice is a club in the @girlupcampaign chain, an initiative by @unfoundation with a vision to empower women and break taboos.
GirlUp is an initiative by the UN Foundation which aims to empower and brings gender equality. The initiative which started in 2010, has now become a global movement impacting a huge number of women across 125 countries. At GirlUp Voice want to contribute to this chain of change, and our goal is to provide confidence and tap the unexplored potential of so many women out there. With this vision we
are aiming at unlearning phobias through awareness.
2020 means concerts from home and now the wait is over!! Girl Up Voice brings to you, Transfest, an online Fundraiser concert featuring 15 incredibly varied artists.
Transfest is a Fundraiser concert, where the proceeds from the tickets will go to the TWEET Foundation, for the welfare of the Transgender community.
It is the duty of the artists who will make sure to make your weekend amazing and unforgettable!!! The two-day event will be streamed online on 24th and 25th October from 5:30 pm.
To book your tickets for a fun weekend click HERE.
Follow us on Instagram and Twitter for more updates!