IITM (Institute of Information Technology and Management) was set up in 1999 under the aegis of Mata Leelawati Shikshan Sansthan (MLSS). IITM has been rated grade 'A' by National Assessment and Accreditation Council (NAAC). It is affiliated to Guru Gobind Singh Inderprastha University, Delhi.
IITM endeavors to-
promote a learning environment that delivers employable students with a strong analytical mind, thinking ability, entrepreneurial and organizational skills required in a dynamic professional environment,
foster a strategic alliance with industry for applied research, and
inculcate ethical, social, and moral values amongst students.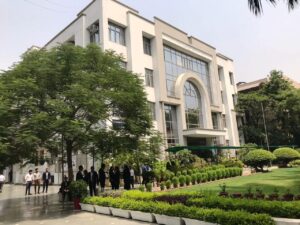 Courses Offered | IITM
MCA
MBA
BCA
BBA
B.Com (Honours)
Admission Procedure
Admissions are conducted solely on the basis of merit through a Common Entrance Test (CET) conducted by the GGSIP University. The University conducts centralized online counseling for all colleges affiliated with it.
Students are required to choose their College/Institute during online counseling.
For application forms, students should look at the University's advertisements in national newspapers or on its website: www.ipuadmissions.nic.in. or www.ipu.ac.in
Click here for the Admission Prospectus
Placements | IITM
The IITM Industry Institute Partnership Centre (IIPC) was established in 2004 for enhancing the interface between the Institute and Industry. This cell identifies the industrial expectation and promotes institutional preparation for meeting industrial needs by facilitating internship, seminars, workshops, placement, and various other industrial training programs. Industry Institute partnership also reflects in equipping faculty to latest practices and makes the students industry-ready by providing exposure to current industry practices.
It helps students hone their skills to adapt to changing technologies. The primary focus of IIPC is to interact with major companies across different industries to establish partnerships in the near future. The Central T & P Cell is committed to meet the career objectives of students and cater to the Human Resource needs of Organizations interested in conducting campus interviews for placements of students passing out from IITM.
The objectives of the cell are to:
Arrange pre-placement training to the students.
Identify opportunities for students to do project work in Industries.
Encourage the department level tie-ups or MoUs with Industries for the mutual benefit.
Enrich the teaching-learning process through identified industrial training/visit.
Invite industry experts for guest lectures, seminars, and expertise sharing.
Assist the industry in the selection of suitable candidates to fill up job positions through campus interviews and provide career guidance to students.
Follow us on Facebook, Instagram, and Twitter for the latest updates and wholesome content.