Great shows come in many forms, but there is literally nothing like a truly great sitcom. Like dramas,a sitcom depicts a serious issues like family or relationship drama, but does so with humor that makes it so relatable you become engrossed in the characters and plot lines. So today we give you the top 5 sitcoms that will make you laugh your guts out.
1. MODERN FAMILY: THE NEW AGE SITCOM
PLOT: A diverse clan bridges cultural and generational gaps. Modern Family uses a mockumentary format and features a large ensemble cast. The series has been heralded since its premiere and has won five Primetime Emmy Awards for outstanding comedy series
Modern Family is primarily a comedy that revolves around three families. Families that are held together more by their virtue of acceptance and love than by the blood ties that connect them. Each character has been thoughtfully written out and played to perfection by a slew of actors who take your breath away. A family that is so imperfectly perfect that you draw the expectations for your own family . Present or future – from their actions, morals, decisions and values.
2. THE SIMPSONS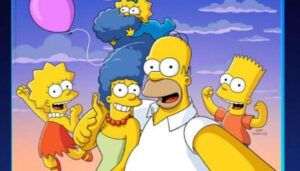 PLOT: Homer and Marge Simpson raise Bart, Lisa and baby Maggie. Currently in its 28th season, The Simpsons is among the longest-running shows in television history.
The Simpsons is my favorite animated series of all time. And, if you watch the show, you probably know why. The writing and comedy are just brilliant and hilarious. Like, the comedy in this show is of legends. The characters are all iconic and lovable, and never seem to get old at all. The animation, while not groundbreaking like some other shows, still fits the show pretty well. The Simpsons have been going on for over 20 years. And somehow still managed to be basically the same show from 29 years ago.
3. HOW I MET YOUR MOTHER
PLOT: Through a series of flashbacks, Ted tells his kids how he met their mother.
While it may not be remembered as a hit as big as a big American sitcom, such as Friends or The Big Bang Theory, HIMYM has marked its place as a series which despite having a cult following, was able to keep its popularity among audiences till it's very end. The unique structure of the show is impressive. They must be doing something right even if after so many seasons, viewers still find intrigue to who will be the mother of Ted's children. And in the words of Barney Stinson, this show really turned out to be LEGENDARY.
4. THE BIG BANG THEORY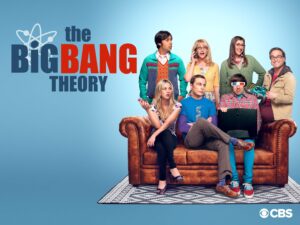 PLOT: A free-spirited beauty moves in next door to two physicists. Jim Parsons has won four Primetime Emmy Awards for outstanding lead actor in a comedy series for his role as Sheldon Cooper. 
Personally, I absolutely love the show. I think it helped fill a great gap in the TV sitcom genre since airing on 24th September, 2007. Filling the gap that friends left. Meanwhile, also gelled pretty well with great with shows like How I Met Your Mother and Two And A Half Men, needless to say Chuck Lorre is truly the 'King of Sitcoms' and knows what he's doing. It has a great vibe of bringing everyone together and it has comedy that can relate to all age groups. Although I will admit that the plot of the story and some aspects of a few episodes are far fetched and unrealistic, it still acts as a great mean for comedy and to enjoy a good laugh at.
5. FRIENDS: THE ULTIMATE SITCOM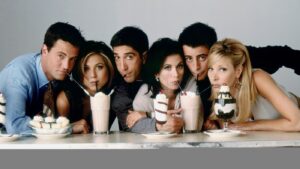 PLOTS: Six friends living in New York hang out at a coffee bar. Friends became one of the most popular shows of all time and made stars out of a mostly unknown cast.
How can a top 5 sitcom list not have friends in it. Regarded by many as the top show of all time, Friends is one of the defining shows of US television history. I would ascertain the character development in friends is incredible. Most of the characters except Rachel, by the end of the show, did not change their nature from what it was at the beginning of the show. There were too many moments that I was emotionally connected to and that's where David and Marta Kaufman have played their part. Monica has this finicky character which some of the audience might not like but her other aspects more than make for it.
Initially, Chandler's character looked the most comical during the first two seasons. But after that Joey's character stood out to best in the series throwing up with instantaneous jokes that would tickle most of the bones in our body. The scene where Joey is asked to describe the relationship between Monica and Chandler and add something about love. he consciously uses alliteration with loving….sharing…..giving….taking…. even after he inadvertently uses a better description of how they meant to him. That is just one of the countless moments that will make you laugh your guts out.
FOR ALL THE LATEST UPDATES, FOLLOW US ON Instagram