Union Education Minister Ramesh Pokhriyal 'Nishank', in his live webinar on December 10, hinted that there may be changes in the way questions are framed for JEE Main 2021. The changes were being discussed to facilitate those students who have studied under different state boards that may have altered their syllabi due to the ongoing COVID-19 pandemic. So, the National Testing Agency (NTA) has framed the questions in a way that would cover both the boards that have reduced their syllabus and those that haven't.
To aid the aspirants in these difficult times, NTA has decided that the question papers of JEE Main exam will have choices. Candidates will now have 30 questions in each subject, divided into two sections – Section A and Section B having 20 questions and 10 questions respectively. Further, the candidates will have to answer only 5 out of 10 questions from Section B. However, the total number of questions to be attempted will remain the same as before, i.e., 25 questions in Physics, Chemistry and Mathematics each.
Moreover, NTA has decided to increase the number of attempts for JEE Main, keeping in view that their dates do not clash with different board examinations that may take place across different states/UTs. The JEE Main will now be held four times this year, starting in February 2021 followed by three sessions in March, April, and May 2021.
Know How to Apply –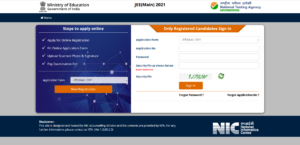 Registration for JEE Main 2021 has started on December 15, 2020 on its official website, jeemain.nta.nic.in and will continue till January 15, 2020.To fill the form, the applicant has to register themselves by filling in their email address and mobile phone number, which would generate a system generated registration or application number that would be used to further complete the form. Following this, documents such as the scanned copies of your photograph, signature and the "result awaited attestation form" need to be uploaded.
Along with filling the application form, aspirants need to pay an application fee, only then their forms would be successfully submitted.
The candidates are required to go through all the information available on the official website of JEE Main 2021 regarding the online form before filling it.
(With inputs from NDTV.)
Follow us on Instagram for more updates!