Education Minister Ramesh Pokhriyal 'Nishank' interacted with students in a live webinar on December 10 and answered the CBSE board and entrance exams related queries.
He clarified how boards and competitive exams will be held next year.
Students had asked Mr. Pokhriyal to announce dates for the JEE Main, NEET, and the CBSE board exams.
Though he didn't announce any final date in his webinar, the Education Minister provided important information regarding the ministry's plans.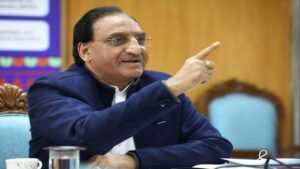 10 points from the #EducationMinisterGoesLive webinar
• Mr. Pokhriyal said that the Medical entrance exam – NEET 2021 will be held for sure, without any second thoughts on the cancellation.
• One student asked for an alternative mode of exam. To this, the minister replied – "We will take it into consideration if students want an online NEET exam."
• Talking about the syllabus of JEE MAIN 2021, he said that while many boards have reduced their syllabi, some state boards have decided not to. "We are discussing on the syllabus of JEE Main 2021 so that students from all boards can participate".
• Mr. Pokhriyal said that the ministry is considering the option of JEE Main to be conducted in multiple sessions each year. Currently, it is conducted twice a year.
• Students are expected to return to their schools soon, after analyzing the COVID-19 situation in respective states.
• Mr. Pokhriyal assured the students that they will be given sufficient time to prepare for their respective exams.
• On slashing the syllabus and postpone of CBSE Board exams, he said that CBSE has already reduced syllabi of Classes 10 and 12 by 30%. If the situation remains the same, then the exams will have to be postponed, he admitted.
• Regarding the smooth conduct of CBSE practical exams, he stated that in such a situation when students cannot visit schools to perform practical exams, it will not be possible to hold those examinations.
• In response to the question of the safety of students, the Education Minister said, we conducted NEET amid pandemic. If safety guidelines are followed properly, no student will get infected.
• Lastly, Mr. Pokhriyal congratulated all the ministers and officials for conducting board and competitive exams in 2020 with proper safety during the ongoing pandemic.
Follow Us On Instagram For More!