GGSIPU online exams have been the hot topic of every IPU student's life ever since they have been announced. There is something new happening everyday and most of them have been such things that students are not happy with. With the various issues the students are facing while taking the tests to the exams of various courses getting delayed all together, we never know what news the next day is going to bring.
In the time of social media, transmission of one misinformation is more than enough to send the entire crowd into frenzy. This is exactly what happened on Tuesday, just a day after a new notice announcing the delay of exams of various courses was released by the University. In the sea of so many notices being released by GGSIPU, one certain unverified notice regarding further delay of the scheduled IPU exams started taking rounds on the WhatsApp groups of various colleges. However, some students were quick to notice some discrepancies in the way that the notice was framed and signed.  Still, it created sudden panic among many and became so viral that one of the students reported that their Dean had forwarded the notice to the Class Representatives, but with a message attached to it that the college would revert back to the students after checking the credibility of the notice.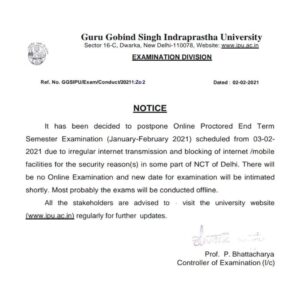 The notice stated that the University has decided to postpone the Online Proctored Exams scheduled from 03-02-2021 due to irregular internet transmission and blocking of internet/mobile facilities for security reason(s) in some part of NCT of Delhi. It further sad that there will be no online examination as the mode of examination will most probably be offline and the new datesheet will be intimated shortly.
However, as soon as this unverified notice went viral, the colleges reported to the University about the same and the Office of the Controller of Examination, GGSIPU was fast in releasing a proper notice addressing the issue about the status of the Online Proctored IPU Exams.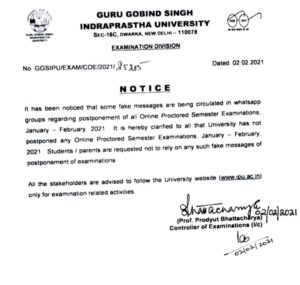 The University clarified that it has not cancelled any Online Proctored Exams which are to be held. It has requested the students and parents to not rely on any such fake messages which are being circulated and rely only on the University website for examination related activities to avoid any confusion and panic.
Follow us on Instagram & Twitter for more updates!