Amid the ongoing IP University exams, many students complained of facing technical difficulties.
According to several incidents reported by students of various colleges, the exams scheduled on 30th January 2021 was rescheduled at the last minute. This caused panic amongst the students.
GGSIPU decided to conduct online end-term semester exams for its students earlier this month. In order to ensure the proper functionality of the exams, several mock tests were conducted as well. After a thorough process of checks & errors, online exams for the students were conducted.
You Might Also Like: 10 Struggles Of Online Exams
Technical Difficulties Mar IP University Exams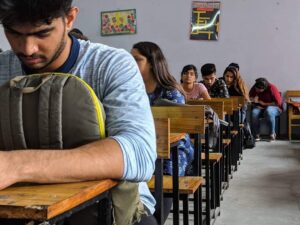 Several students have reported technical difficulties while appearing for their online exams. As per several messages and emails received by IPU Buzz, students complain improper functioning of the exam portal. While several faced issues with the camera and microphone, others weren't able to log in.
"This is a technical fault…I am a final year student and I can't afford a backlog", said one of the students in an email to IPU Buzz.
However, many students went on to lodge their grievances on the helpline number provided by the university regarding IP University exams. While most of them were met with positive responses, some of them weren't content with the response.
In another incident, the subjects of the exam were changed at the last moment. This led to a sense of anxiety and confusion among many students. The exams for subjects were rescheduled as "there was no list received for conducting this paper today".
Also Read: University Releases Helpline For Proctored Exams
Ambiguous Timings

IP University Exams: Technical Difficulties and AmbiguityMany students reported ambiguity in the timings of the exams. While in usual instances the time to log in for an online proctored exam is 9 AM, today the exams were commenced at the same time. With students prepared for a 9:30 AM deadline for the exams to begin, many weren't able to appear. With a sense of technical difficulty and complex technicalities, many students are now wary of the online exam infrastructure. The contract for conducting the proctored exams has been assigned to a third-party firm.
Suggested For You: GGSIPU Online Exams: How To Prepare Well?