DU has been subjected to a lot of scrutiny by students and teachers alike, when it decided to conduct exams online and offline in the middle of the pandemic. DU OBE phase 1 was conducted from 10th August- 31st August 2020. However, not all students were able to appear for the exams due to various reasons. The reasons ranged from faulty server, low internet connectivity, COVID-19 affected students or family members, etc. Therefore. a second phase had to be conducted to include every student. On 14th September 2020, DU OBE phase 2 has been commenced.
10,000 students have registered | DU OBE
According to Professor Balaram Pani, Dean of Colleges, DU, 10,000 students have registered for the second phase of the online open-book exams. 3,000 of them have opted for writing the exams at the designated centers. He said 7,000 students will be appearing for the exams online. Nearly 2,000 final-year postgraduate and undergraduate students of the Delhi University (DU) will be appearing in the second phase of the open book exams on Monday, officials said. In the second phase, the students can write the exams online or at the university's exam centers.
The second phase of exams in the Delhi University Open Book category is being conducted for those students of UG/PG courses (Regular and ex-students) including SOL and NCWEB who have either not appeared or have failed to upload/submit the scanned images of the answer scripts in the first phase of the examination.
Offline Exams
Pani said there are 10 such centers and 250 students of the School Of Open Learning each have been allotted to each one while college students can take the exams at their respective colleges.
The students have been asked to bring their own answer sheets and writing material and the seating plans have been sent to them in advance, officials said.
The colleges have been instructed to adhere to the social-distancing norms and sanitization practices.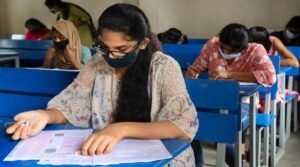 Follow us on Facebook, Instagram, and Twitter for the latest updates and wholesome content.