Covid-19 has completely disrupted our environment. Everyone is trying just to survive in this current pandemic situation and amidst this, the education sector, in particular, is showing not much sensitivity towards families who are unable to pay their fees. That's not even the only crisis, the real problem is the structure and mode of paying the fees and dues. According to a survey conducted by Ipubuzz, 62.6% of the students find it justified fee structure.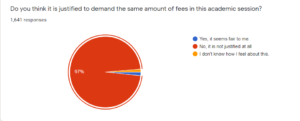 Basic Issues Every Household Is Facing
Students and their families are facing unprecedented levels of financial turmoil. Some of which are:
The financial situation in every household is not the same.

Students rely on scholarships and they haven't received it yet.

Hefty amount just for a few classes.

A proper internet connection is not available to take online classes.

No instalment method in private universities
Some Alternatives For Unjustified Fee Structure
Instalment Method
This is just to provide some bearable amount of time for paying the fees and due amount. Not every household is able to pay the raised fees which are almost in Lakhs! So, the instalment method works as a relief for parents from deadlines.
However, all those who belong to economically weaker sections are the ultimate sufferers and instalment methods will not work well for them. 
Fee Waiver Policy
Many institutions in the educational sector are now introducing fee waiver policy which grants the students to pay only 50% of the fees or just the tuition fees. A University in Haryana also provided their students with this aid.
Yet, when on-campus facilities are not in use, and classes and operations have shifted online, it would be prudent to question the necessity of charging full fees for services students cannot use. In times of a pandemic, how much is too much for universities to ask for from their students?
For more news updates, check out our Instagram and Twitter.