The hashtag started trending after Congress leader Rahul Gandhi, who earlier today wished PM Modi a happy birthday, released another tweet citing the unemployment situation in the country. "Massive unemployment has forced the youth to call today. #NationalUnemploymentDay. Employment is dignity. For how long will the Govt deny it?" Rahul Gandhi tweeted.
Tagging a Hindi news report which said, over 1 crore Indians were seeking jobs, but only 1.77 lakh jobs were available across different states in India.
 This followed a string of tweets targeting the government and PM Modi for everything from inflation to historic low in GDP to a significant rise in unemployment in the country.
Using the same hashtag, Congress leader and former Karnataka CM Siddaramaiah said: "This #NationalUnemploymentDay, I appeal to @PMOIndia @narendramodi to create adequate jobs to address the ongoing crisis. This crisis will create huge demographic dividend problems wasting precious years for our youths." He said over 2 crore salaried jobs and 12 crore overall jobs were lost in the last six months and the unemployment rate had reached 45 years high due to decisions of the Modi government.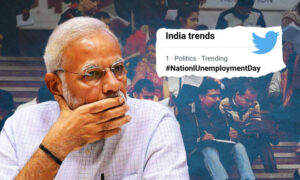 PM Modi became the first-ever PM in the world whose birthday is celebrated as 'National Unemployment Day'.
A parody Twitter account of Dimple Yadav, SP leader and wife of former UP CM Akhilesh Yadav, said educated youth of the country were celebrating National Unemployment Day outside the Rajasthan University campus by selling tea, peanuts, and pakoras and cobbling shoes, well that not functioning eyeing the pandemic insight.
Right after this, the Twitteratis went berserk with all types of memes and criticism and sighting facts.
With more than 2.75 lakh tweets by late afternoon, television mainstream media had a field day counting the achievements of Prime Minister Narendra Modi by counting his achievements and sleep hours and number of yoga asanas done, to keep himself fit at this age of 70 and continue to be the best and the most hardworking PM of the world.
(With inputs from Business World, Bloomberg)
For more updates follow us on Instagram and Twitter