Farmers in Haryana and Punjab have been protesting against three ordinances passed by the Centre. The protest began on Thursday when the Bharatiya Kisan Union (BKU) staged a rally and blocked National Highway 44 near Kurukshetra. The farmers were charged by the Haryana Police for not following Covid-19 prohibitory orders and damage of property.
The protests turned violent after police allegedly lathi-charged the agitating farmers when they tried to move to the rally venue — Pipli Mandi — by breaking down barricades.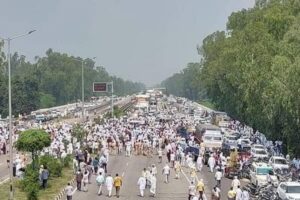 What are the three ordinances that have been passed by the Centre?
The Farmers' Produce Trade and Commerce (Promotion and Facilitation) Ordinance, 2020, the Farmers (Empowerment and Protection) Agreement on Price Assurance and Farm Services Ordinance, 2020, and the Essential Commodities (Amendment) Ordinance, 2020 are the three ordinances that the Centre had passed during the lockdown period.
The ordinance which is more concerning is the first one – The Farmers' Produce Trade and Commerce (Promotion and Facilitation) Ordinance, 2020. The ordinance seeks to "provide for barrier-free trade of farmers' produce outside the markets notified under the various state agricultural produce market laws (state APMC Acts). The Ordinance will prevail over state APMC Acts."
The ordinance states that farmers are allowed to trade products outside, " the physical premises of market yards run by market committees formed under the state APMC Acts" and such trade "can be conducted in any place of production, collection, and aggregation of farmers' produce including (i) farm gates, (ii) factory premises, (iii) warehouses, (iv) silos, and (v) cold storages."
Congress leader Jairam Ramesh said that the ordinances will disrupt "the agrarian foundation that has been laid carefully in the past 50 years."
Their demands include — firstly, a rollback of all three ordinances, secondly, the mandi system to remain in place, thirdly, their loans be cleared, and fourthly — in line with the 2006 Swaminathan report by The National Commission on Farmers — the law should be made for MSP to be at least 50 percent more than the weighted average cost of production and if the MSP is not paid, it should be a punishable crime.
And, finally, a law should be put in place that guarantees payment from the buyers through arhtiyas (middlemen) that has always been the norm to ensure that banks don't deduct the money in the name of loan recovery.
The central government seeks to bring these ordinances in order to bring structural reforms to the agricultural sector.
(With inputs from Hindustan Times and The print)
For more updates follow us on Instagram and Twitter