The Centre on 13th September, urged Maharashtra, Andhra Pradesh, Karnataka, Telangana, Gujarat, Rajasthan, and Madhya Pradesh to ensure adequate oxygen availability in all healthcare facilities and unrestricted intra- and inter-state movement of oxygen cylinders because of the coronavirus pandemic.
The Union Health Ministry held a virtual meeting where Union Health Secretary, Secretary DPIIT, and Secretary Pharmaceuticals participated. State Health Secretaries and Industries Secretaries of the seven states also participated in the meeting and discussed ways to ensure adequate its availability in all healthcare facilities and unrestricted intra- and inter-state movement of oxygen, the statement stated.
Dr HM Prasanna, President of Private Hospitals and Nursing Homes Association, however says some hospitals are struggling to get refills of O2 cylinders.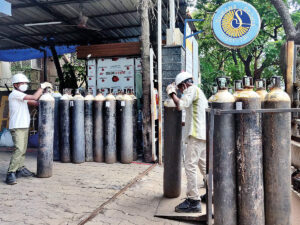 "Only big private hospitals in Bengaluru have enough oxygen; small and medium private hospitals have been facing issues getting refills. In Bengaluru districts headquarters, both private and government hospitals are facing challenges in providing oxygen to patients," Dr Prasanna told NDTV.
Hospitals and institutions have long-term tender/contract agreements for the supply of cylinders with manufacturers, which need to be honored. Hence, states must not impose restrictions on the free movement of cylinders, the statement underlined.
Timely payment of dues to the manufacturers and suppliers to maintain an uninterrupted supply of cylinders was stressed.
States were urged to improve power supply infrastructure and ensure uninterrupted supply to Oxygen Manufacturing Units, ensure proper disinfection of cylinders as per protocols while sending cylinders to fillers of oxygen.
They were also urged to ensure effective coordination with steel plants for the procurement of cylinders since steel plants provide approximately 550 MT/day oxygen in addition to oxygen manufacturers who provide 6,400 MT/day.
"Most patients need high oxygen flow now. In the pre-Covid days, patients needed usually less than 10 litres of oxygen per minute – with the routine being 4 litres per minute. Now, they need 15 litres and more per minute. Critically ill patients need to be given as much as 40 litres per minute," Dr Prasanna says.
If in pre-Covid times, the cost was ₹ 18 to ₹ 20 per cubic litre, it has now almost doubled. Dr Prasanna said that major vendors have increased their costs by 40%, and added that though hospitals had turned to new suppliers, they too were asking for as much as ₹ 40 per cylinder.
(With Inputs from NDTV and others)
For more updates follow us on Instagram and Twitter