5.1% of students have no means to pay fees digitally- our survey revealed to us a horrifying truth and plight of students. IPUBuzz took it upon themselves to amplify students' voices and concerns to the authorities.
The GGSIPU's prominent colleges have issued notices regarding immediate fee submission. Not only were the fees normal like usual, but it was also hiked. During a pandemic when families are facing an economic crisis and job uncertainty, demanding higher fees is not an expectation from one of the prestigious universities of India.
Student Concerns | Fees Hike
Some of the students' concerns regarding paying high fees are-
Not using college facilities like libraries, computer labs, etc.
The ongoing pandemic has created economic instability for many families
The classes are online so only tuition fees should be paid by them.
Students who depend on scholarships can't pay high fees without the aid
5.1% can't pay fees digitally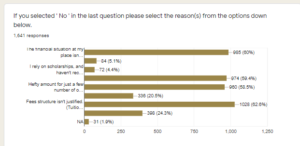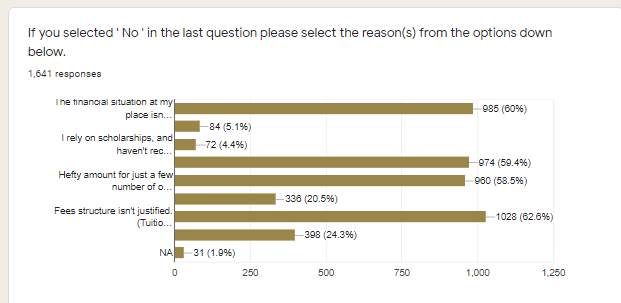 1641 students participated in our survey, and 84 students responded that they have no means to pay fees. The digital infrastructure of India is not great, and the authorities have not responded to that. Students who don't have the means to pay the fees have no option but to either find a way or drop out of college. Either option is not ideal.
The authorities have not given a safe alternative to the problem of these students. Many people have been facing problems accessing their education due to a lack of digital infrastructure in our country. There are many more students out there stranded with limited options for something as basic as access to their education. The authorities must find a solution.
Follow us on Instagram, Facebook, and Twitter for the latest updates and wholesome content.