Students from various institutes are protesting against orders to make payment of full fees, saying they haven't used any campus resources. With COVID-19 cases continuing to surge across the country, several higher educational institutions have resorted to online classes for its students, with a hike in fee structure.
However, though classes are being held virtually, many colleges are demanding payment of full fees, which include infrastructural costs that the students are not currently accessing.
As a result, students from several of these colleges are now refusing to pay the entire fees or are facing financial problems.
97% of GGSIPU students feel that the demand for the same fee amount as previous academic sessions amid the pandemic isn't justified. 1.6% of students find it justified whereas 1.3% of students don't know how they feel about it, reveals a survey by IPU Buzz.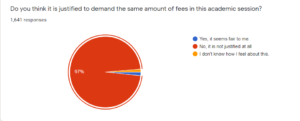 In the survey, it also revealed that almost 60% of the students find it difficult to pay the same amount of the fees. Most of the respondents stated a 'poor financial condition' than earlier it used to be, the reason behind the inability to pay the amount.
1641 students participated in our survey, and 84 students responded that they have no means to pay fees. The digital infrastructure of India isn't extraordinary, and the authorities have not reacted to that. Students who don't have the way to pay the charges have no alternative yet to either discover another way or drop out of school. Either alternative isn't perfect.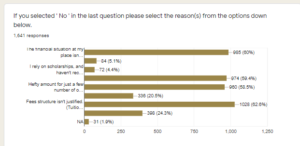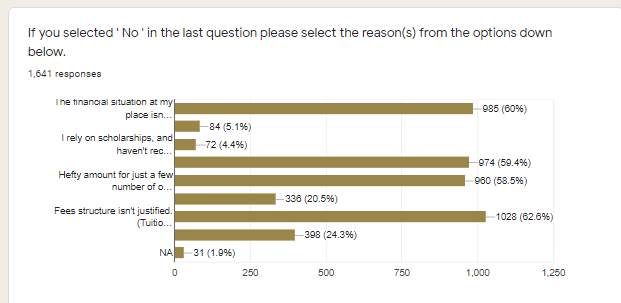 It is no news that this pandemic has adversely affected almost everyone in one way or the other. The COVID-19 pandemic has had far-reaching consequences beyond the spread of the disease itself and efforts to quarantine it, with people losing their jobs and barely being able to survive.
In the event that that wasn't sufficient, students of GGSIPU are currently confronting tension and trouble, as they have been approached to pay the college with a cutoff time.4.4% of students rely upon their scholarships to pay their college fees, according to the GGSIPU fee issue survey conducted by IPU Buzz.
58.5% of students find it unjustified to pay a hefty amount for a few online classes. The mode of payment should also be flexible and should provide a good span of time also so that there is not much load on parents and students.
There have been complaints of technical issues like a rejection of fees from students' end and payment platforms are also haunting them as colleges are flooded with complaints from students that they have paid online but there is no confirmation yet.
The pandemic is not just financially but also mentally draining, particularly for those who have the weight of paying their college expenses inside a restricted timespan.
It has financially weakened guardians who should endure the worst part of the charges. Regrettably, they may even need to pull back their kid's confirmation from universities.
Numerous schools are requesting students to pay a hiked sum and that too in one-go in spite of the non-working of the universities.
In times of a pandemic as well as the financial crisis, is too much to ask the universities to give some relaxation or an alternate method to pay fees?
Follow us on Instagram and Twitter for more updates!