The GGSIPU fee issue has left it's students desperately helpless. Students find it absolutely unjustified to pay a hefty amount of fees for online classes. Parents find it absolutely unethical to demand hiked fees when students are not using any resources.
All the students have been trying to bring their individual issues into notice by mailing the concerned authorities.
Unfortunately, their issues and grievances have gone unaddressed till now. This left no other option for students but to express their individual issues using social media platforms.
GGSIPU Virtual Protest: Twitter Storm
GGSIPU students have started a virtual protest on Twitter against the fee hike issue. Twitter has been flooded with the following hashtags:
#ReviseIPUFee #ipufeerelaxation #GGSIPU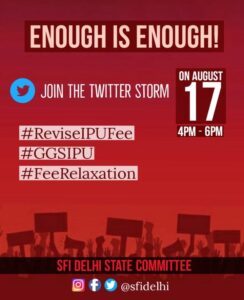 Students are continuously using these hashtags to brings their grievances into the light. They are also tagging the concerned authorities including the CM Arvind Kejriwal and Education Minister Manish Sisodia, hoping this might help them regarding the issue.
Uproar Observed By Students On Twitter
"We need the fees reduced. Enough is enough. We are not even being provided any bifurcation of the fee, which is a must from any organization if we are paying for services."
"The government should take back it's anti-student move. A huge section of students will be deprived of completing their education if students are forced to give full fee."
"I know you're bored GGSIPU, but I'm not enjoying the games you are playing with our mental health and income bro."
"Education is now a trade, but we students are certainly not a part of this unethical business. We want proper reforms in our digital education system with a properly revised fee."
"The times are uncertain, but the future of students cannot be pushed into the pit of uncertainty forever! GGSIPU needs to hear it's students and revise the fee accordingly."
Follow us on Instagram and Twitter for more updates!