PM Narendra Modi while delivering his seventh consecutive Independence Day speech, spoke about his government's efforts for empowerment of the women in the country. Many on Twitter praised him for talking about "sanitary pads", breaking taboos against menstruation.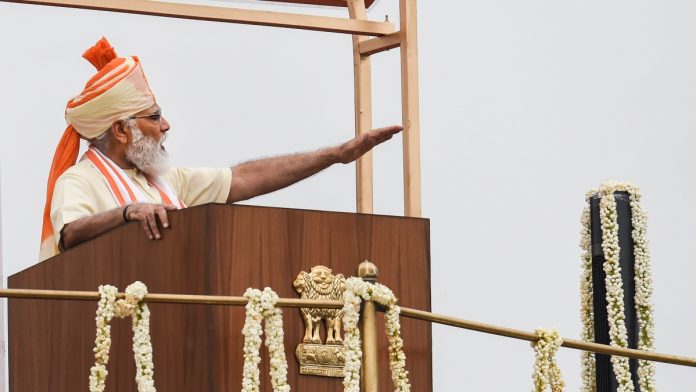 Sanitary Pads At Re 1 At Jan Aushadhi Stores
To encourage women hygiene, the government had slashed the price of sanitary napkins sold from its Jan Aushadhi Kendras to just Re 1 per piece in 2019.
The move was of utmost significance. As, many women in rural areas still use cloth or rags because of the unaffordability of sanitary napkins. Such unsanitary alternatives like cloth and rags are the cause of many diseases among adolescent women.
According to a certain Report, unavailability of sanitary pads in rural areas had also led to about 23% of girls to drop out of school.
 "This government is constantly concerned about the health of daughters and sisters. Through 6,000 Janaushudi centres, about five crore women have got sanitary pads at Re 1. Also, for their weddings, we have made committees so that the money can be used at the right time," PM Modi said in his speech.
ALSO, READ: Students climb trees, hills to attend online classes in Odisha
A Change In Mindset
Menstruation is still a very taboo subject in India. In a country where a woman on her periods is not allowed to go to the temple, enter the kitchen, touch a jar of pickles and whatnot, the move by the PM to talk openly about menstruation on a public platform was praised by netizens on social media.
First to converse about "sanitary pads" openly …Proud to have you @narendramodi @PMOIndia as our Prime Minister…Till now I am not adept to see any other to be suited at this place…#NarendraModi https://t.co/vuQgRglvaw

— Sunidhi Pathak (@SunidhiPathak1) August 15, 2020
"We have worked for women empowerment. Navy and Air Force are taking women in combat roles. Women are now leaders,  we've abolished Triple Talaq," PM added.
Check out our Instagram page for more updates!