Due to the current pandemic situation, the University of Delhi organized an Open Book Examination for the Final year students. But the teachers seem unsatisfied with its feasibility and lack of guidelines to evaluate under this mode of examination.
What Is an Open Book Examination?
OBE allows the students to take notes, text, and resource material into an exam situation. They test your ability to find and apply information and knowledge, so are often used in subjects requiring direct reference to written materials, like law status, statistics, or acts of Parliament. The material which one can take of course varies from organization to organization.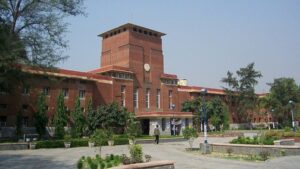 Teachers View On Open Book Examination :
Not many teachers of Delhi University are satisfied with OBE.
 According to a professor of Shaheed Bhagat Singh College, the new exam mode has caused uncertainty for over 2 lakh students.

 Some teachers also said that it's not successful for the students with commerce and humanities background. Such courses are feasible only for science students.

100 DU teachers also signed a plea, seeking a review of the Open Book Examination held for the students of the final year.

"Neither feasible nor desirable" ~ DU students and teachers oppose Open Book Examination.
What Can Be The Alternative For OBE?
For avoiding this method, teachers are now giving alternative options for the same. Some teachers suggested taking account scores from the previous semester as an average for the present semester and lengthening the period for all existing batches of students by at least two years.  
What Are The Challenges?
For teachers, the most problematic point would be making of pages.It seems that evaluation would take much longer than it is expected.  

This exam mode is not at all credible and teachers have no means to check whether the students are writing the exams or someone else at their place.

The students are also not very serious about the exams . They also fail to prepare thoroughly and every student has access to the same notes which their faculty gives.
Ultimately, it is clear that this mode of examination is not very useful. Teachers and students, both are expressing their disbelief in the current method used for examination.
Till then, keep buzzing! 
Follow us on Instagram and Twitter for more such information!