The list of woes for students is endless and an exorbitant fee amount adds to it amid the pandemic. The shadows of sorrow and rage seem to have taken all over but, the college fee issue still remains unaddressed.
Students are trying their best to raise their voices through all possible mediums. Listed below are 4 simple ways that can be adopted by GGSIPU colleges to relieve students and parents from the fees issue.
1. Installment Method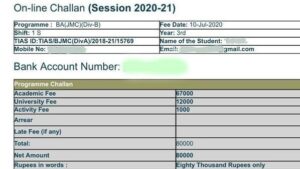 The students aren't running away from paying the fee. They do acknowledge and understand that colleges have their own list of requirements which are largely met by the fees paid by them. However, the students are at complete odds with paying an unreasonably enhanced amount.
Well, what is the most practical method of paying a huge amount? Installments, right? That's exactly what students want- permission to pay the fee in 2 or 3 installments.  Adopting such a method might ease students' burden as well as work well for the college authorities.
2. Fee Waiver Policy for Needy Students

Innumerable people lost their jobs and many years of savings during the coronavirus outbreak. The financial condition of many families is not the same as it used to be earlier.
Colleges should take the same into consideration and implement a fee waiver policy to help needy students. The University of Haryana adopted a similar policy wherein 50% or even 100%  tuition fee will get reimbursed for the economically weaker section of students.
3. Reduction in College Fee
Paying normal fees at an abnormal time isn't fair. Students haven't had access to classrooms, laboratories, libraries, playgrounds, etc. Moreover, they will have to bear the internet and electricity costs. There should be some fee relaxation fee due to the same.
4. A Lil' Empathy And Concern
These times are unprecedented for one and all. At such times, authorities stepping into students' shoes, and understanding their concerns is truly indispensable. Education will not be imparted the way it used to. College's infrastructure and other facilities won't be utilised by the students. Demanding a normal fee is unreasonable whereas demanding a hiked amount is completely unethical. A little empathy, concern, and consideration can actually move mountains!  
What Can The Students Do?
TWEETING AND RETWEETING

Tweet. Post. Share.
Tag college authorities, HRD minister, Delhi CM, and @ipubuzz in their tweets.

MAILING COLLEGE AUTHORITIES

Mail college authorities about their concerns.