As per the latest update of UGC all the final year students have to appear for exams by September 2020, reverting on their decision to cancel exams. Many states have requested cancellation of the exams and show their support to their students. Students have been flooding social media to cancel exams for final year students in view of the pandemic.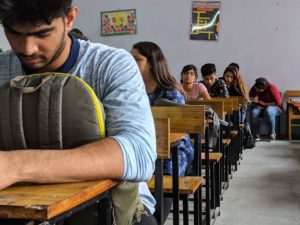 Centre Against Cancelling Exams?
The centre is pushing on these exams for the long-term benefit of the students. They have also cited that 200 universities have already conducted their final year/semester exams. In view of the pandemic, the centre has offered an online, blended (online + offline) and offline (pen and paper) mode. It has also added a provision to conduct another round of exams if the students are unable to appear for the first round of exams. However, the date for these exams has not been announced.
States Against Exams | Cancel Exams
Tamil Nadu, Punjab, Maharashtra, Odisha, West Bengal had written to the centre to request cancellation of exams for their final year students. Delhi recently joined this list and demanded a cancellation for the exams for its states' universities.
Centre's Response To States
Centre has said that it will look into the requests by the states. However, a senior official at the ministry of human resource development (MHRD) said that the regulations of the University Grants Commission are mandatory and central directions take precedence.
Amit Khare, secretary, higher education in conversation with TOI said, " Under the UGC act, state governments cannot take this decision. UGC and AICTE (All India Council for Technical Education) have to be implemented."
Follow us on Twitter, Facebook, and Instagram for the latest news updates and wholesome content.