In the latest address, Deputy Chief Minister Manish Sisodia has announced to cancel all the exams of Delhi state universities.
The Dy. CM announced that the step is being taken in view of the current situation of the Coronavirus pandemic. He further added that the degree will be awarded on the basis of parameters decided by the universities.
This announcement comes days after UGC issued guidelines to conduct exams. The UGC guidelines mandated the conduction of exams by September end in an offline, online or hybrid manner.
What Did Manish Sisodia Say? | Exams Cancelled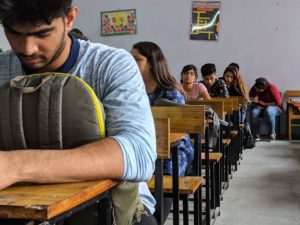 In his address to the media, Manish Sisodia said that the final year students will be promoted on the basis of their past performances. Moreover, the students from the intermediate semester will be promoted to the next semester.
"State universities have been asked to devise parameters for evaluation to award degrees to the final year students," he said.
"All the students in Delhi state universities will be promoted to next semesters and the final year students be awarded their degree basis their past performance,"  the deputy CM said.
In light of the major disruptions caused by the Coronavirus pandemic, Delhi govt has decided to cancel all Delhi state university exams including final exams https://t.co/g4SFLqaBQK

— Manish Sisodia (@msisodia) July 11, 2020
He further went on to say that the students be given their degrees to not hinder their employment prospects. The deputy chief minister further stated that unprecedented situations require unprecedented solutions. The move is certain to bring relief to lakhs of students of GGSIPU and other Delhi state universities.
In contrast, the UGC has clarified that its decisions not to scrap the final semester exams are based in academic prudence and to maintain credibility.
Delhi Chief Minister, Arvind Kejriwal has written to the central government for similar decision to be announced for central universities.
However, a formal notice is awaited from Guru Gobind Singh Indraprastha University on the issue.