The Central Board of Secondary Education is all set to begin with, CBSE class 10th and 12th compartment exams from today, i.e 22nd September 2020. Reportedly, students who were unable to qualify in the main exams are giving compartment exams, amidst the pandemic. Nearly 2.38 lakh candidates are giving their re-examination.
CBSE Compartment Examination 2020
As per the datasheet released by CBSE, the compartment exams for class 10 will end on the 28th of September. Whereas, for class 12th the exams will end of the 30th of September
From class 10 there are 1,05,198 students to show up for compartment exams and from class 12 there are 87,651 students. 
This year, the exams have been already delayed due to the current situation of the global pandemic. Also, a total of 809 students approached the Supreme Court in order to cancel the CBSE compartment Exams 2020 in view of Covid-19.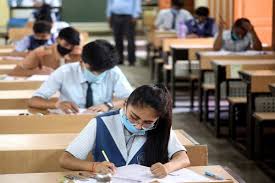 Timings Of The Paper
Answer books would be distributed to the students at 10 AM. 

The question paper shall be distributed at 10:15 AM 

The students will go through there question paper for 15 minutes.

At 10:30, the candidates shall start writing for their exams. 

The total duration of the examination is 3 hours, i.e from 10:30 AM to 1:30 PM
Important Guidelines Amid Covid-19
Every students are advised to carry their own sanitizer in a transparent bottle and water bottle

All candidates are expected to follow social distancing

Also, students shall cover their mouth with a mask or a cloth

Parents shall ensure that their child is not sick

Every student must follow the guidelines written in the admit card
Conclusion
Every year CBSE conducts compartment assessment for those students who couldn't clear one or two subjects in the CBSE board exams in class 10 and 12. Further, the students/candidates get only 3 chances to clear for their exam. 
Amidst pandemic, keeping offline mode of exams is the best idea but what can one do if he/she is left with no other option. So keep yourself safe and take all precautionary measures. 
Till then, keep buzzing!
Follow us on Twitter, Instagram, and Facebook for all the latest updates!