IEEE ADGITM proudly presents the most awaited event of the year, TECHNORAX v6.0.
Dr. Akhilesh Das Gupta Institute of Technology and Management, formerly known as Northern India Engineering College, is a private engineering college located in New Delhi, India. It was established in 2003 by the Babu Banarasi Das Educational Society.
Technorax is a technical project exhibition hosts by IEEE NIEC Student Branch of Delhi Section on IEEE Day.
Technorax is held to celebrate the legacy of IEEE Day which witnessed a huge gathering of students who got the right platform to showcase their talents in the form of some gripping projects. It is the right stage to identify your latent talent. Remember it takes several drops to build an ocean. Take the first step towards your goal and a wonderful beginning.!!
Be prepared for a ravishing event, as Technorax v6.0 is leaps and bounds ahead of its time by taking you on a virtual tour of innovative events planned just for you, also providing a platform for entrepreneurs, where they can showcase their startup ideas!
IEEE ADGITM introduces technical and non-technical events
1. T-Hacks
A 24 Hour online Hackathon, where originality becomes reality. Concepts can be transformed into marvelous ideas. The Hackathon will be alluring as there is no static theme and students can get questions from anywhere, so the sky is the limit. The participants will get the exposure to stimulating problem-solving juices of developers to distill their visionary ideas down to solutions.
☆Winners will be given cash prizes.
☆Also, there are special prizes for AR/VR category.
2. Reckon-o-rax
Want to become an entrepreneur but not sure where to begin?
Get ready to present your ideas, as this is an entrepreneurship event which will provide you with a platform to boost your perceptions, also there will be quizzes for the same!
So, Set the clock forth! Your wait is nearly over.
☆The Top 10 participants will be selected from the quiz and will further present their startup ideas to the judges.
☆Winners will be given prizes worth $799!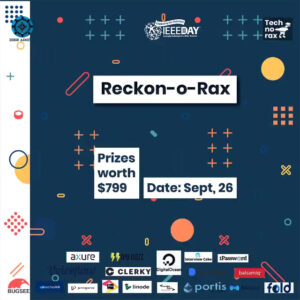 Dates – 29th-30th September
For more updates visit: https://technorax-v6.tech/
For any query, contact them at:
Rachit – http://wa.me/919318375168
Email at- contactus@technorax-v6.tech
Follow us on Instagram and Twitter for more updates!