Well, all of us know what does the term gold digger means. But, how about seeing a journey of a not so ashamed gold digger to a goal digger? Sounds interesting, right?
Initially, some of you might not find the Fittrat to be binge-worthy or worth your time. But let me tell you, people, if you stick through it, you will definitely find your curiosity level hitting another level to find out what happens next.
Fittrat – I'm My Own Hero is an Indian romantic drama web series produced by Ekta Kapoor and directed by Santosh Singh.
Cast | Fittrat
Aditya Seal, Krystle D'Souza, Anushka Ranjan, Aditya Seal, Priyanka Bhatia, Aru Krishansh Verma, Divya Seth, Kitu Gidwani, Mohit Chauhan, Kaizad Kotwal
Where to watch: ALT Balaji
No. of seasons: 1
Commitment: 15 episodes, 22-24 minutes each
IMDb: 8.5/10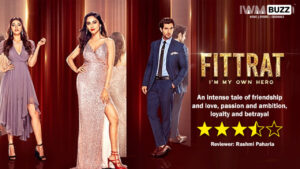 Overview | Fittrat
The story of Fittrat is about a middle-class girl Tarini Bisht who lives in Dehradun. Tarini has only dreamt of marrying a guy with money who could fulfill all her wishes, since childhood. No doubt, she is a gold digger and isn't ashamed of it at all. But, is a true friend and is ready to do anything for her best friend Amrita (Amy).
The series portrays the themes of love and friendship very beautifully.
Tarini moves to Delhi in search of her honey with money and meets her best friend Amy. But her destiny had things planned absolutely different from what she wished for. What will she do when she doesn't get to meet her best friend? What will she do when her best friend's fiancée fall in love with her? How will she face all the challenges alone?
Now, without giving any spoilers I would only suggest you guys binge this show and let us know your views about it.
Join Tarini's journey from being an abashed gold digger to a goal digger to an independent woman.
Follow us on Instagram and Twitter for more updates!