In the mood for some murder mysteries and crime documentaries? We have got you covered with these spine-chilling crime thriller web series! Given true crime dramas have gripped the world in the past few years, the reality of crime can be exhausting and terrifying. Hence, it can be almost relaxing to settle down with some popcorn and watch some fictional crime thriller web series and escape reality. With a mix of some OG ones, newer shows, Indian originals and the best of the genre, we have tried to curate this list of the best crime thriller web series to keep you hooked!
MONEY HEIST
Also known as La Casa de Papel this series was one of the most talked-about when lockdown struck. Originally a 2 series show, this series has definitely kept us hooked throughout its 4 seasons. The first look at the gang might make us assume that they are robbers, but they soon emerge as the heroes. With the professor's mastermind in pulling off the biggest robbery in Spain, each character's personal and emotional journey, some neat Spanish songs and moments that make us teary-eyed, this show is definitely a must-watch. Of course, the characters' iconic red jumpsuits and Salvador Dalí mask are trademarks for the show!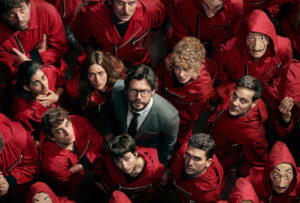 PEAKY BLINDERS
Time to transported to 1920's Birmingham. Set in 1918, watching peaky blinders is surely a cinematic experience. With season 6 on its way, this is the right time to binge-watch seasons 1-5. The story revolves around Tommy Shelby and his gang Blinders, who is run by his family members and most trusted men literally fight their way to respectability and rise from the ashes. Complete with British bars, family drama and lots of heinous crimes, this series will keep you hooked. Well-paced, well written and directed: Peaky Blinders captures the action, anxieties, exciting highs and deep melancholy that seem to plague the Shelby family as they build a criminal empire comparable to Al Capone's at the height of prohibition.
BREAKING BAD
The show revolves around Walter White, who transforms from being a normal Chemistry Prof to Drug Lord in the end. There is no reset button for the protagonist to go back and be good, which also makes this show unique. The protagonist has many flaws, yet is admired, all because of the brilliant portrayal by Bryan Cranston. The dynamics between the characters, the rich world that they've been put in, how it blends the lines of something sketchy that benefits Walter and his family, to a black hole of senseless crime and profit, makes it addictive and one of the bests in the crime thriller web series.
MIRZAPUR
From the house of amazon prime, Mirzapur has been highly controversial since its release. Too gruesome for some, yet it's one of the most-watched crime thriller web series to date. The show revolves around the very real mafia kingdom prevailing in the Indian state of Uttar Pradesh. In a bid to save their father, two brothers forcefully become part of mafia don Kaleen Bhaiya's (Tripathi) criminal operations. Through the course of time, these innocent youngsters transform into full-fledged violent criminals, costing the lives of their loved ones.  Great performances by Pankaj Tripathi, Ali Fazal, and Vikrant Massey are definitely a plus!.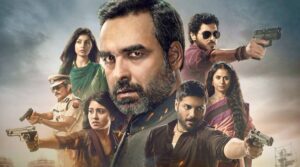 PAATAL LOK
Another hit from amazon prime, Paatal Lok was another series that was most talked about during the lockdown. A journalist assassination attempt, a nail-biting police investigation and gruesome crime unfolded; this series will keep you hooked till the very end. The symbolism of Paatal Lok, Dharti Lok and Swarg Lok, which are deeply enrooted in our society, are aptly portrayed. The violent and gory scenes might make you pause, but also think about the reality of crime in the country. Traversing through topics like religion, politics, and gender discrimination, this series truly has it all for a crime lover.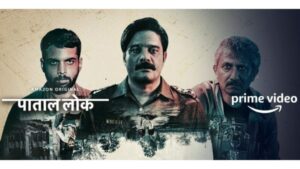 SACRED GAMES
With its huge popularity, you might have probably already watched and re-watched both the seasons of this show by now. But, there's no harm in watching it again. This crime thriller revolves around an honest cop who runs against time to decode the cryptic warnings of a crime lord and his apocalyptic plans. Bollywood stars like Nawazuddin Siddiqui, Saif Ali Khan, Pankaj Tripathi, Kubra Sait, Radhika Apte, Surveen Chawla, Kalki Koechlin and makes it even more interesting.