An open mic to speak your mind out. How does that sound?
In a world marred with Coronavirus, stress, and whatnot, maintaining your mental health is surely a challenge.
While unforeseen events take place, unbearable news struck our homes, all we can hope is for a bit of positivity and sanity, amongst all this.
Amidst all of this, there's a glimmer of hope. What if you get to speak at an open mic event focusing on mental health?
Yup, there's one such place.
Project Ukiyo, a student-run mental health awareness initiative is presenting De Coeur- an open mic event for all you students out there.
All About The Open Mic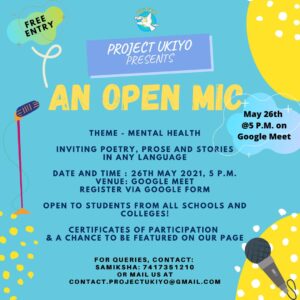 The Du Coeur open mic event is being held on the 26th of May 2021. The event welcomes students from all colleges and schools to come together and join their hands for mental health and its effects.
The platform gives a chance to students to perform their poetry, prose or a story in any language they prefer.
The Open Mic Guidelines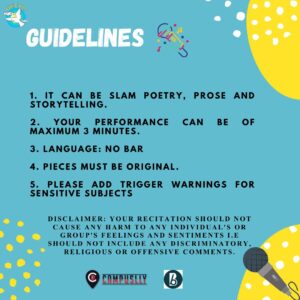 In order to ensure that the event goes smoothly, there are certain guidelines brought forward by the team at Project Ukiyo
1. It can be slam poetry, prose and storytelling.
2. The duration of your performance is to be around 3 minutes.
3. Choose a language of your own preference
4. The creative pieces chosen must be original.
Details For The Event
Here are the details you need to keep in mind for the event to be held, organised by Project Ukiyo
Date: 26th May 2021
Venue: Google Meet
Time: 4 PM onwards
Deadline to register 24th May, 11:59 PM.
Registration Link: https://forms.gle/C2xeDUY126L861dP7
Conclusion
With a lot of things going on in the world around us, this event comes as a sigh of relief for many of us. A platform that helps us talk, perform and overcome our inner fears is the strength and positivity that most of us need in these times. Register now and unless the artist within you!